The kitchen is the heart of the house where everyone congregated during the pandemic, and it's still the go-to room for multiple functions—that means it keeps changing.
The kitchen became an even more significant heart of the home during the pandemic as the focal point for gathering, working, entertaining, and, of course, cooking, says Joe Fava, CEO of Fava Design Group in Miami. Now, homeowners are putting more into their kitchen space—literally. They're buying larger refrigerators, freezers, and sinks, and second dishwashers and ovens, he says.
Homeowners are entertaining and cooking even more at home, and the price tag reflects their exuberance. Those who can afford to do so spend upwards of $100,000 on kitchen upgrades. But your clients don't have to pay that much to get a kitchen they love. Much smaller, less costly improvements can make any kitchen more appealing. Here's how.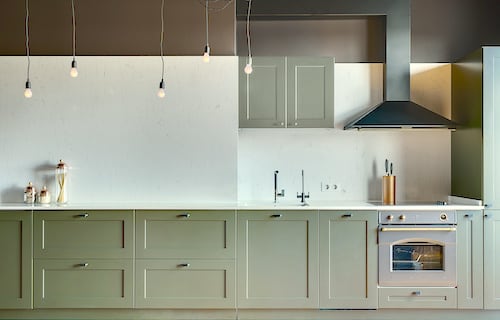 Think color. Kitchen colors are changing. Although white cabinets remain the most popular choice, according to the Houzz design site, the trend is moving toward additional color and warmth to give the room more personalized, says designer Kristie Barnett of The Decorologist in Nashville. Medium green cabinetry is becoming popular, as well as dramatic quartzite countertops and backsplashes. Some reflect hues as vivid as purple, says Fava.
The use of green is part of a bigger trend dubbed "forest bathing," which means being surrounded by natural materials and spending time among nature to calm oneself, which the Japanese call shinrin-voku. If you can't walk in a forest, some say bringing the colors in can help destress. The nature-inspired shades and textures are turning up in unexpected places like cabinetry, appliances, and hoods, says J.T. Norman with Kitchen Magic in Nazareth, Pa. For example, Fulgor Milano's "Sofia" professional range door color kits offer six matte and glossy hues.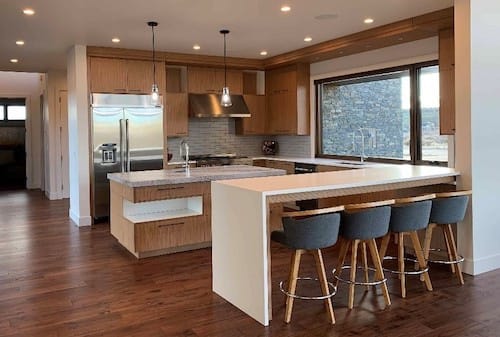 Think wood. In addition to color, wood veneers are also in vogue as part of the forest bathing trend, says Fava. "Clients come to us with an interest in a warmer aesthetic of a wood veneer in anigre, an exotic wood, or sometimes a lighter wood color." The younger generation is more interested in sustainable materials and designs than older clientele, he says. Because of the wood veneers, some cabinets no longer require hardware and depend on a touch latch to open and a button to close. But for those cabinets that use hardware, they're showing up in a variety of metals: gold, champagne, matte black, and rubbed oil bronze. Norman is seeing more greiges or warm brown and taupe tones returning as part of this outdoor vibe.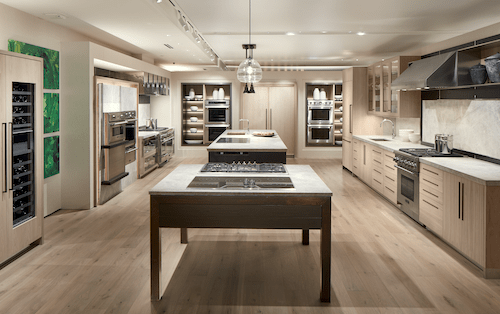 Light in layers. With advancements in LED technology, new lighting options continue to roll out, according to kitchen designer Mick De Giulio of de Giulio Kitchen Design in Chicago. "You can now incorporate small, beautiful lights in colors that range from 2700 to 3000 Kelvin—warm to cool—and layer different effects throughout any room," he says. In a kitchen, De Giulio likes to use lighting to outline a room's features—floor toe kicks, cabinets, backsplashes. For more decorative purposes, he may add wall sconces or a linear fixture above a kitchen island. Recessed cans have gone out of style because they make a ceiling look cluttered.
Consider simpler but varied cabinets. Cabinetry is going in a few different directions. Some are taking cues from European-inspired design. Elmwood recently introduced a collection called "Renaissance" that offers a choice of metallic paint hues in gold, silver, copper, all inspired by the continent's great palaces. Simpler, more modern is also in, which means less maintenance is needed, says Norman.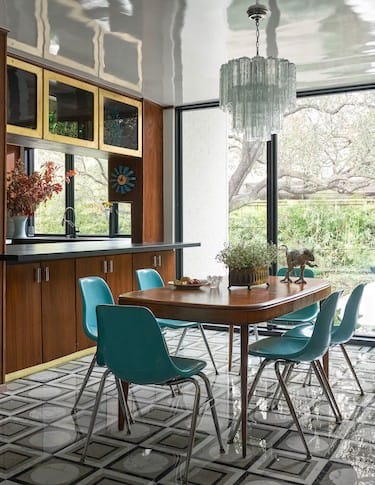 Architect Eddie Maestri of Maestri Studio agrees and sees fewer Shaker boxes and more taupe-gray color of the wood and other colors if the kitchen is traditional. In his own kitchen, he used brass for upper cabinet doors and black walnut for lower ones.
Cook healthier and smarter. Some homeowners consider a steam oven today's "it" appliance choice because allows for healthy cooking. Fulgor Milano's 30-inch model allows optimal vitamin retention and flavor and works as a steam, convection, and combi-steam cooking unit. Smart appliances that can be paired with a smartphone via download apps are also desirable among homeowners. Smart refrigerators, for example, alert homeowners when they're low on items so groceries can be ordered. Smart ovens can be turned on via an app to preheat even when homeowners aren't home, says Norman.
Try larger flooring tiles. Fava is using more large-format porcelain tiles in the kitchen today—as big as 30 by 60 inches instead of plank styles, which, he says, "have seen their day." Norman also likes larger tiles but in luxury vinyl that better mimics wood. Maestri steers clear of hardwoods and prefers "statement" tile in concrete, depending on the house, he says.
Go seamless with the backsplash and countertop. The same material is being used for both areas to offer a less choppy, seamless look, says Norman. He favors quartz. Maestri likes this approach, too, or using two similar designs in quartzite, marble, or certain granites.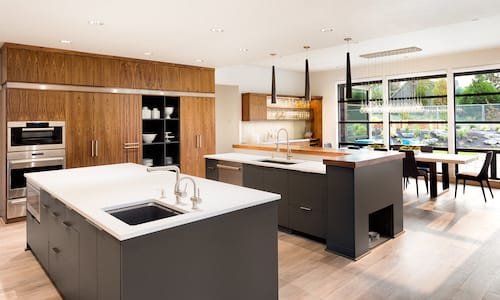 Double the island. One island is considered great, but now two are twice as good (if there's room). "It's a twin to the existing island," says Norman, whose clients are willing to take down a wall to make it feasible. Instead of using the same island, Maestri might include a design that resembles furniture, which can also function as a barrier between a less open kitchen and adjoining living space.
Source: Realtor Magazine, Barbara Ballinger