The share of newly built single-family homes on the market is at a record high as the resale market continues to face severe shortages. In December 2021, the inventory of existing homes available on the market fell to an all-time low, according to data from the National Association of REALTORS®.
Homebuilders have been ramping up inventory due to increasing buyer demand. However, builders have said surging material costs and labor and lot shortages continue to press on the level of building activity.
More than one-third—34%—of U.S. single-family homes for sale in December 2021 were new construction, the highest on record, according to new research released by Redfin, reflecting the national housing market.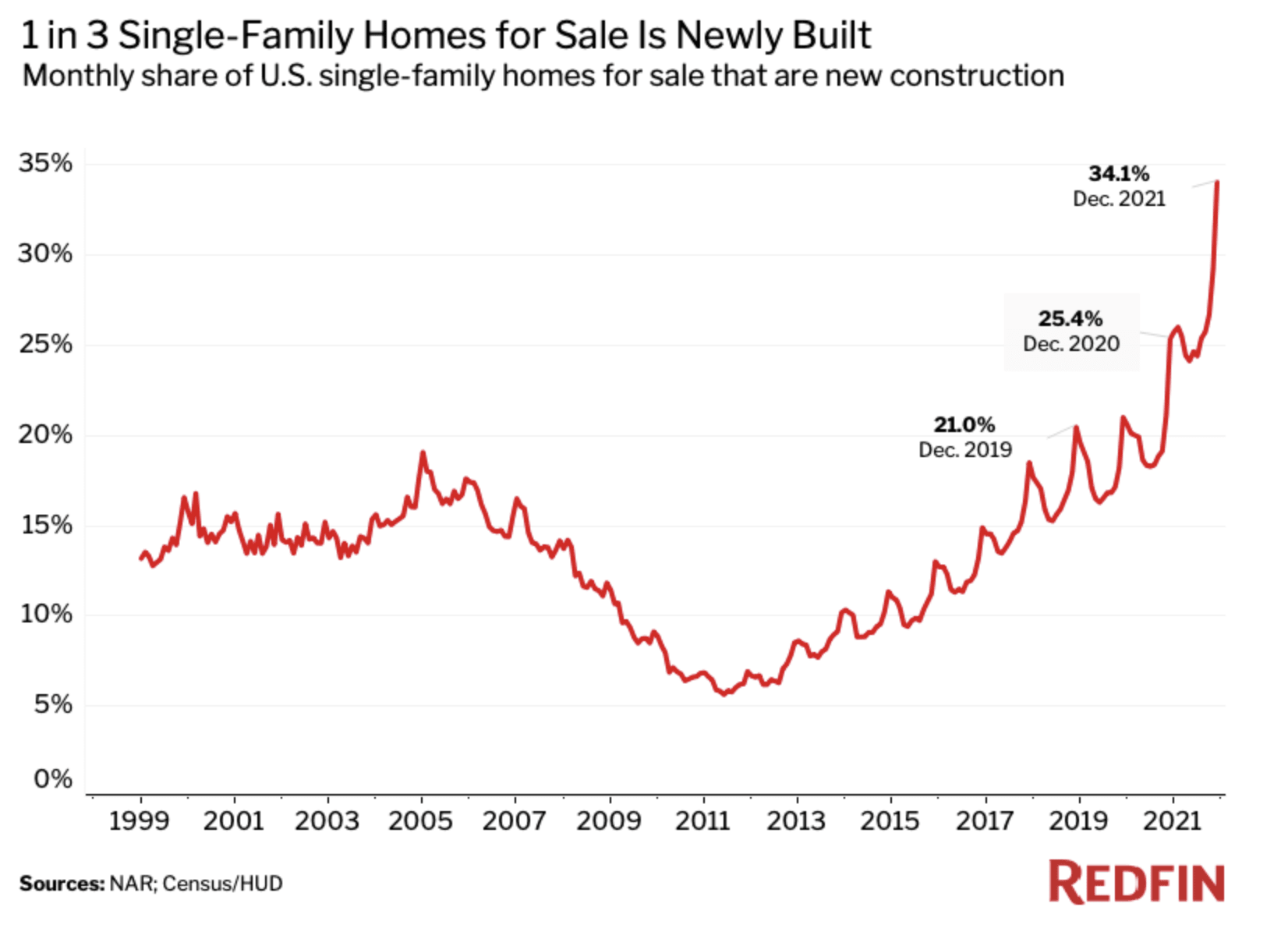 "A lot of pre-owned homes are being listed, but they are just selling off so quickly—typically in a matter of days—while new homes take longer to sell," says Sheharyar Bokhari, an economist at Redfin. "So as a homebuyer, you're increasingly likely to see new builds when you look up homes for sale in your target area. Existing homes tend to be less expensive and fly off the shelves faster, so people who are just getting into the market should speak to their lender and agent about preparing to act quickly when an existing home that meets their criteria does hit the market this winter."
New-home prices tend to be higher than existing homes. The median sales price of new homes rose 34.1% year over year in December 2021 to $377,700, according to U.S. Census Bureau data. For comparison, the median sales price of existing homes has increased nearly 16% annually and was $309,200 in December 2021, according to NAR data.
New homes may be easier to find in certain locales. The markets with the largest share of newly built homes for sale are:
Houston: 39.5% of for-sale homes were newly built in the fourth quarter
Minneapolis: 38.3%
San Antonio: 37.5%
On the other hand, the metros with the smallest share of new-construction inventory were all in California: San Diego (3.1%), Anaheim (3.8%), and Los Angeles (4.4%). Redfin researchers explained that California has a lack of vacant land and less space zoned for housing developments.