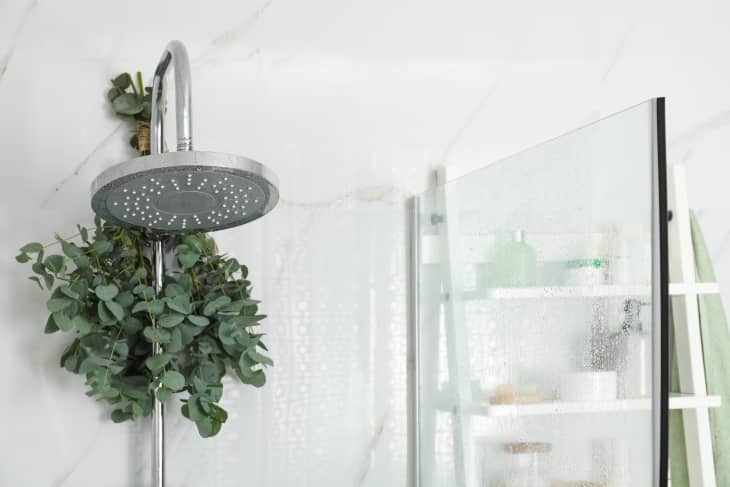 For me, the bathroom isn't just for cleaning. It's a sanctuary where I can find a moment of peace in my day, settle down my overactive brain and focus on my physical senses. The sounds of running water and the pulse of the warm stream can shut out the rest of the world. It's truly one of life's most accessible luxuries, so I'm always on the lookout for ways to make my shower feel as indulgent as possible.
Little changes to the
organization
and layout of my bathroom, specifically the shower and bath, have exponentially leveled-up my experience in this space. And a few easy DIY projects have made my time alone in the shower or bath feel a little more like a day at the spa. Looking to achieve your own
spa-like nirvana
? No expensive renovations or tools are required. Take it from me and incorporate these five details into your shower or bath routine for even more relaxation.
Swap out your curtain.
Swapping out a straight shower curtain rod for
a curved one
instantly adds more luxury to the experience. The curved outward bend gives a narrow shower 33 percent more space, which means more room for you to luxuriate without the wet curtain getting in your way. This shower curtain rod hack will also add extra dimension to the appearance of the bathroom. In fact, hotel bathrooms often use curved rods because the design naturally gives bathrooms a more sumptuous look. And while you're at it, swap out the liner too. A heavyweight shower curtain liner won't blow around, fold and trap mildew, or brush up against your skin while you shower.
Mount your toiletries.
This easy hack makes the shower look expensive by bringing a visual uniformity to the bathroom, and it declutters the shower rack or the edge of the tub. Invest in a few mountable uniform bottles with pump dispensers and fill with your regular shampoos, conditioners, and body washes. No tools are necessary to install with water-resistant adhesive strips. If you want to get really fancy, design and print your own waterproof labels for each bottle.
Shop for storage beyond the bath section.
Small-sized bath products like hair serums, face washes, travel-size bottles, and all those tiny shampoos we take home from the hotel bathrooms never stand up right in a standard shower caddy. Storage solutions like hanging spice racks for the kitchen, or even shallow racks you'd see in a boutique for displaying nail polish or sunglasses, are more functional alternatives to keep your shower, and entire bathroom, more organized.
Whip up a DIY shower scrub.
If you Google "DIY shower scrub," you'll find recipes calling for a few cups of this and a few teaspoons of that. But because everyone prefers a different "grit level" to their sugar scrub, there is absolutely no need to break out the measuring cups for this hack. Mix coconut oil and sugar in a large bowl and play around until you find your preferred ratio. Then add a few drops of your favorite essential oil, pour into a jar, lock the bathroom door, and exfoliate to your heart's content. Does anything feel more luxurious and relaxing than stepping out of the shower with ultra-smooth skin?
Keep items dry by using a shelf.
A bath tray is a must to avoid balancing a mug of tea or a glass of wine on the edge of the tub or on the floor and getting electronics wet (because broken glass and a waterlogged iPhone are the opposite of relaxation). If you don't have a tray, but you do have something like an old floating shelf laying around, lay that over the bath! Prefer to settle into the bath with a book instead of all those distracting devices? Prop it up on the bath tray using a small photo easel.