---
Three in 10 home sellers say they've used a hidden camera during an open house or showing at their home, according to a new LendingTree study of more than 2,000 consumers.
The most common reason, cited by nearly half of those who provided reasons, is to understand what home buyers do and don't like about the homes. Thirty-six percent of those respondents said they wanted to use the camera to gather information that could be useful during negotiations. Twenty-three percent of them wanted to see what their real estate agent was saying about the home.
The most commonly used models are doorbell and security cameras. Baby monitors and nanny cams were less common.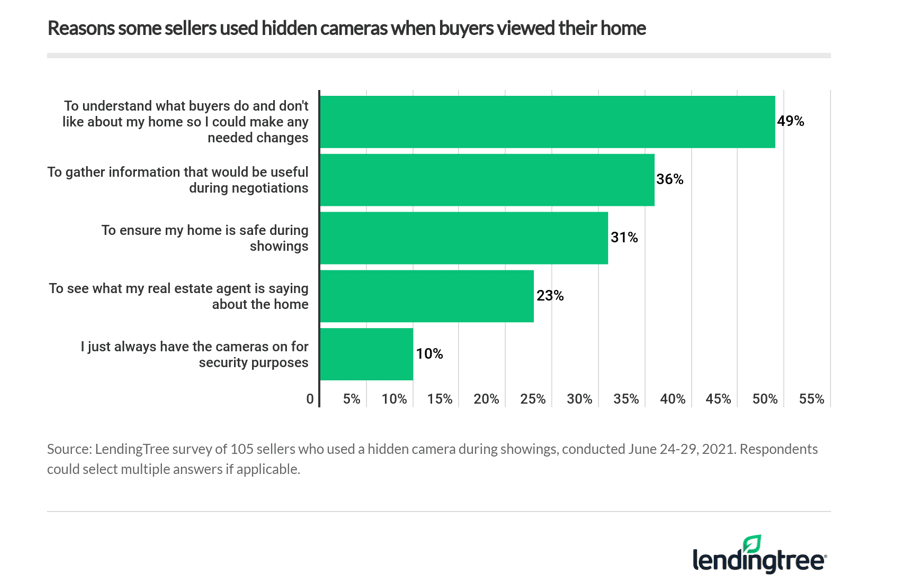 Many home buyers suspect their use. More than a quarter—or 29%—of buyers who used a real estate agent for their home purchase said their agent warned them a hidden camera could be used during a home showing.
Despite the use of these surveillance cameras, 56% of consumers said it doesn't make them want to back out of a deal to purchase their dream home even if they do find out the seller is secretly recording them. The remaining 44%, however, said they would not buy the home if they felt spied on, the survey found. A majority of buyers feel that the use of a spy camera during showings is an invasion of their privacy.
Still, 32% of the more than 2,000 consumers surveyed said they'd consider using a hidden camera during a future homeselling process. Gen Zers, ages 18 to 24, are the most likely at 41%, while only one in five baby boomers, ages 56 to 75, said they would, the survey found.
Source: "Nearly a Third of Home Sellers Admit to Hidden Camera Use During Showings," LendingTree (July 29, 2021)