"More than anything, it defines a start and an end," says Ría Safford, owner of the luxury home organization company RíOrganize. As today's guest cure-ator and a pro organizer, Safford offers her advice on how to put together a to-do list that'll not only optimize your plans but also keep the momentum going.
Day 2: Create a to-do list for your home
The way you'll be capturing your to-do list is completely up to you, whether you like to write it down on paper, put it down in your notes app, or create a document or spreadsheet on your laptop. You can even try out a new organizational app to get today's task done, but just remember to give yourself some time to get used to it, and if you don't like it after a month or two, it's completely fine to try something else. Give yourself this grace period to find what'll work best for you, says Safford.
Now, we're going to get all our ideas out there. Just as you would with a cluttered space, the first thing you need to do is empty everything, says Safford, so empty your mind of all the "to-dos."
"You just need to see it all down and sometimes just writing it down takes away from that noise in your mind of all the things looming around that you need to be doing," she says. "Just put it on paper and let's make sense of it."
Once you've done this "brain dump," take a look at what you wrote and identify things that no longer need attention, you surprisingly don't need or want to do anymore, or that aren't a task for you to do personally (and would be better left to someone else, like a professional). Once those are taken out, it's time to organize and categorize what's left on the list. Group tasks that correspond to a specific space or type.
"We've cleared it, we've sorted, we've categorized it — then, just like we would in setting up our new space, it's all based on priority first," says Safford. Have the things that are going to be the most impactful to you now — the most visible, the most accessible — up top. For instance, something you need to do within a month should be higher on the list versus something that can be done in four months.
My recommendation is to also add details to your tasks to give yourself an idea of what's to come, such as the timeline, things needed for it, and allotted time to work on said project.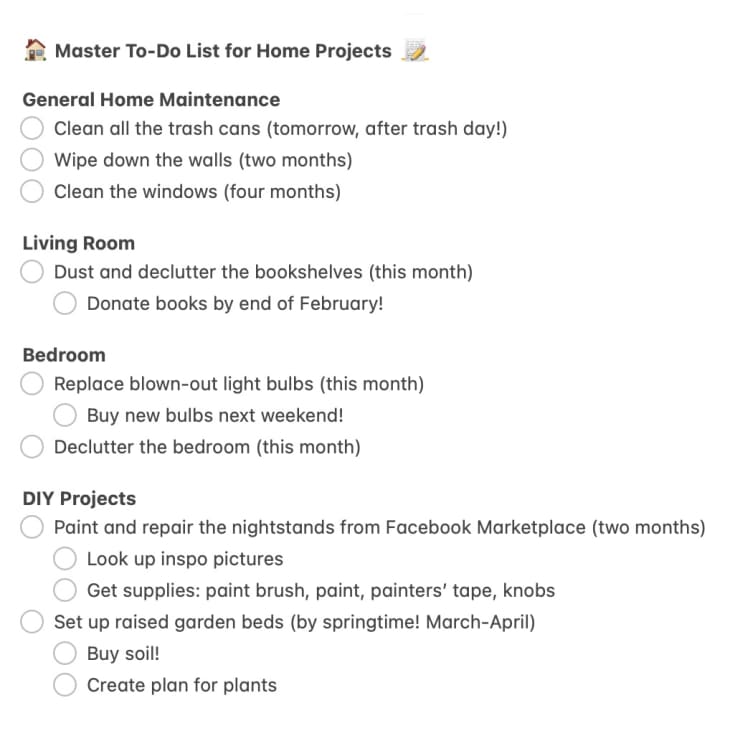 Credit: Stephanie Nguyen
Now, you have a master list of all the home projects you want to complete this year. But remember, this list is completely changeable. After all, it should evolve, grow, and adapt to your needs. Add to it, alter it, take things off it — it's yours to amend. We're going to come back to this list at least once this month, so keep that in mind as you jot things down. You just might cross off an item (or two) soon!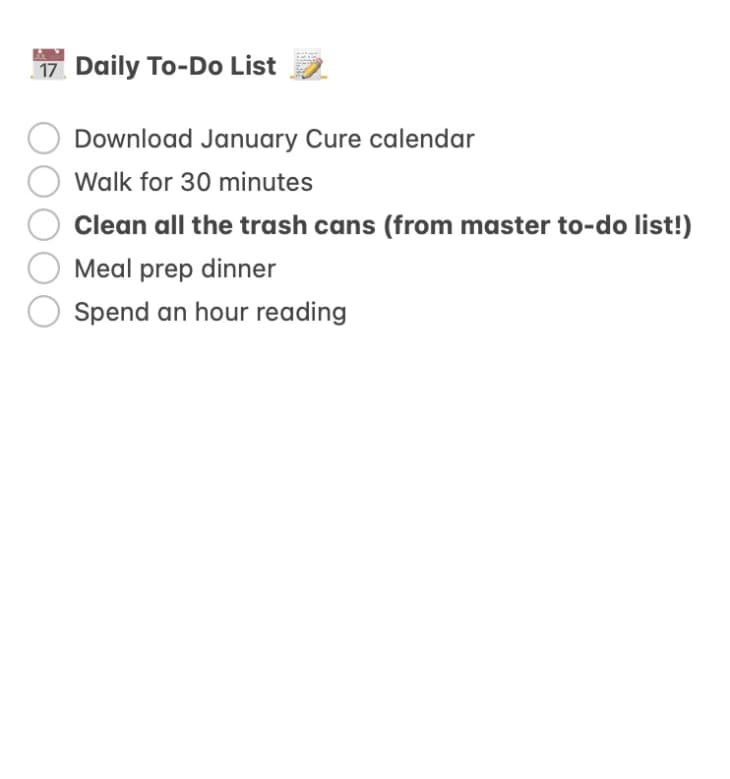 Credit: Stephanie Nguyen
Here's an example of what it may look like in incorporating the master to-do list with your daily one.
SAFFORD'S PRO TIP: Once you have this master list, Safford recommends that you integrate it into your daily to-do list. This allows you to not only get things done but also present tasks in a more palatable way. You won't have to keep looking at a daunting list of major to-dos, instead, you take it day by day with your daily one. For future tasks, consider a calendar reminder on your phone that'll alert you several times before it's time to get it done. Consider one month out, one week, and one day out.