Sitting in Roja Brimalm's back garden in the Swedish countryside, it's easy to believe it is a bright morning in early summer. We're bathed in sun, enjoying fika—the Swedish tradition of coffee and cake—and chatting about her plans for the garden while bumblebees dart among blossoming fruit trees. The reality, however, is that it's a cold and blustery morning in March, one that we're separated from by nothing more than the four-millimeter-thick glass of the greenhouse that covers Roja's entire home and garden, creating a bubble of balmy weather.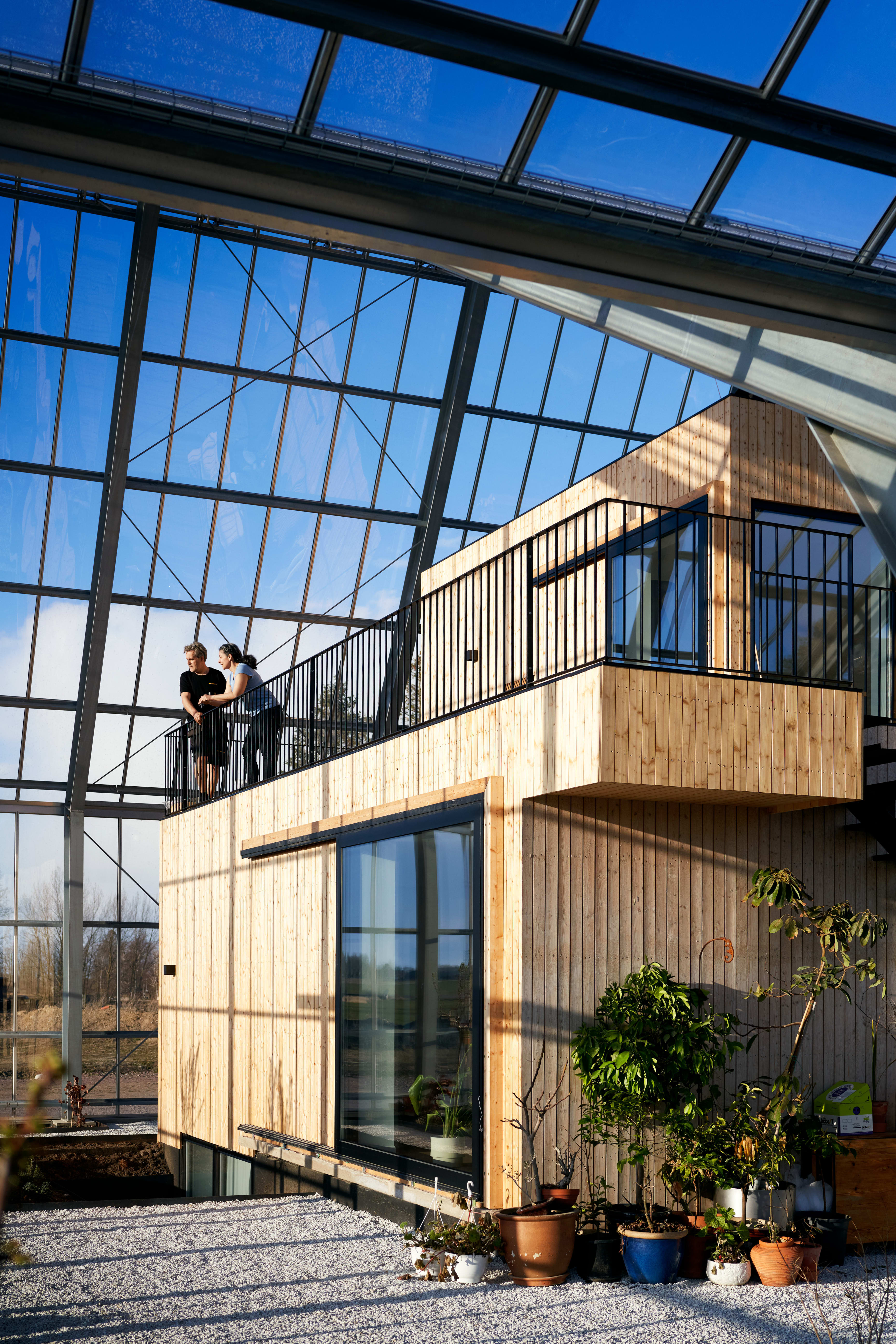 Roja and her partner, Johan Holmstedt, are part of a small, yet growing, group of sustainably minded homeowners in Sweden who have built these greenhouse residences. The origins of the concept—known as a naturhus—can be traced back to Swedish architect Bengt Warne, who, half a century ago, proposed a model of biodynamic living in which residents and the home itself are part of a self-sustaining ecosystem. The home inside a greenhouse creates a climate that enables nearly year-round growth of fruit and vegetables; the garden is nourished with recycled water and composted nutrients. 
To test his theory, in 1976, Warne constructed a timber building within a glasshouse in Saltsjöbaden. It served as both his research center and family home. While the project attracted some attention, it stayed a unique vision for almost three decades.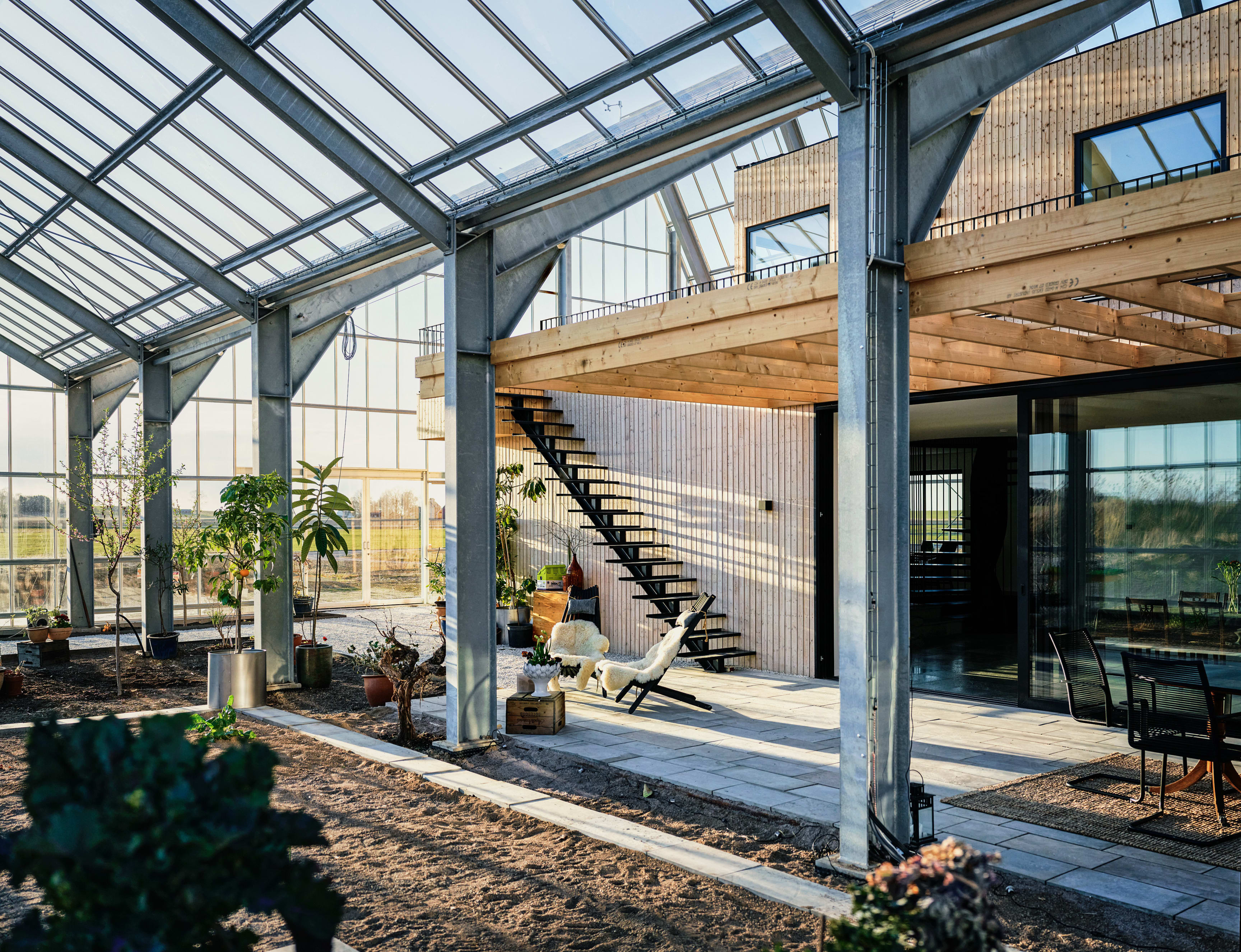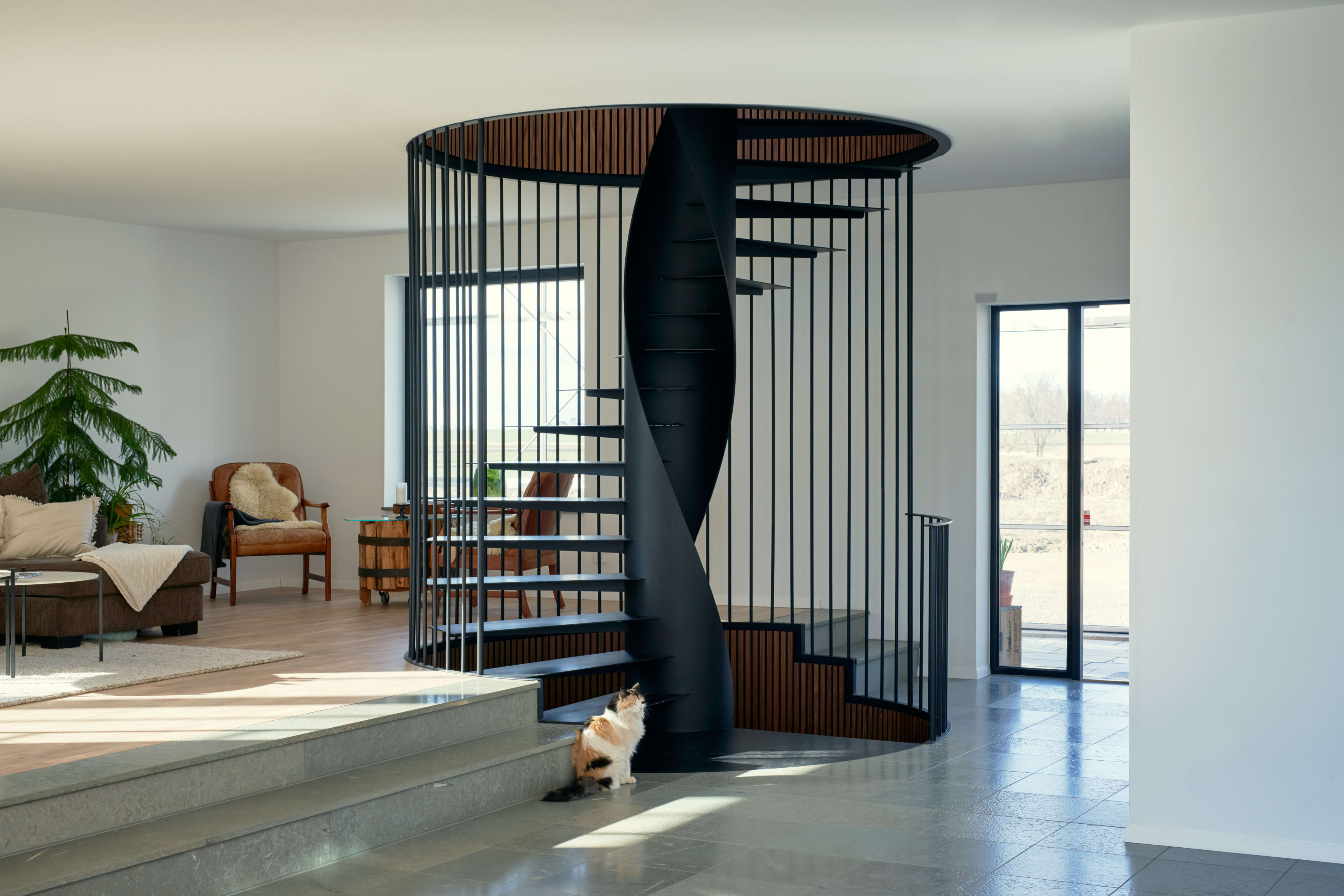 Johan built the stairs himself. Marble for the kitchen was sourced from a quarry 10 minutes away, as were the limestone floors. Photo by Pär Olofsson
The idea appears to have gained momentum again when orthopedic engineer Anders Solvarm came across the naturhus concept by chance in 2000. He was building his own log home near Brålanda, in the west of Sweden, and was looking for a way to protect it from the inclement weather throughout construction. During a lunch break in the library of the hospital where he worked, he chanced upon a book written by Warne in the 1990s and became intrigued by this way of living in harmony with nature. "I realized it was like moving the house to Italy," he recalls.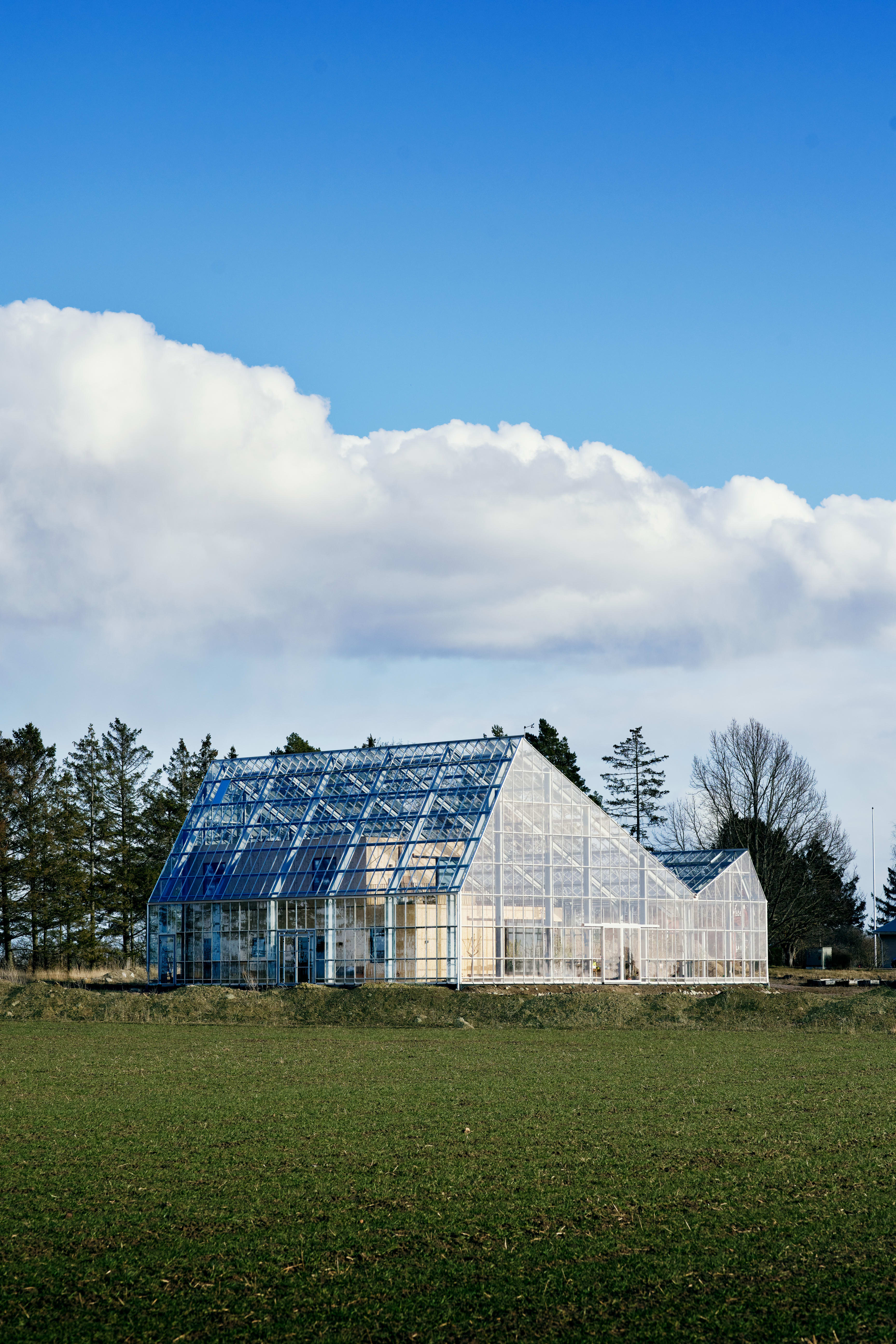 Anders contacted Warne to discuss how he could integrate the concept with his initial plans for a conventional log house. Under the architect's mentorship, Anders spent the next seven years building his own, simpler version of a naturhus. He enclosed his home in a standard greenhouse—the type used by commercial farms but engineered to be larger than normal—and refined the water filtration system to make it more affordable. He also created a flat, usable roof terrace instead of the pitched-roof style typically found in Sweden to handle heavy snow.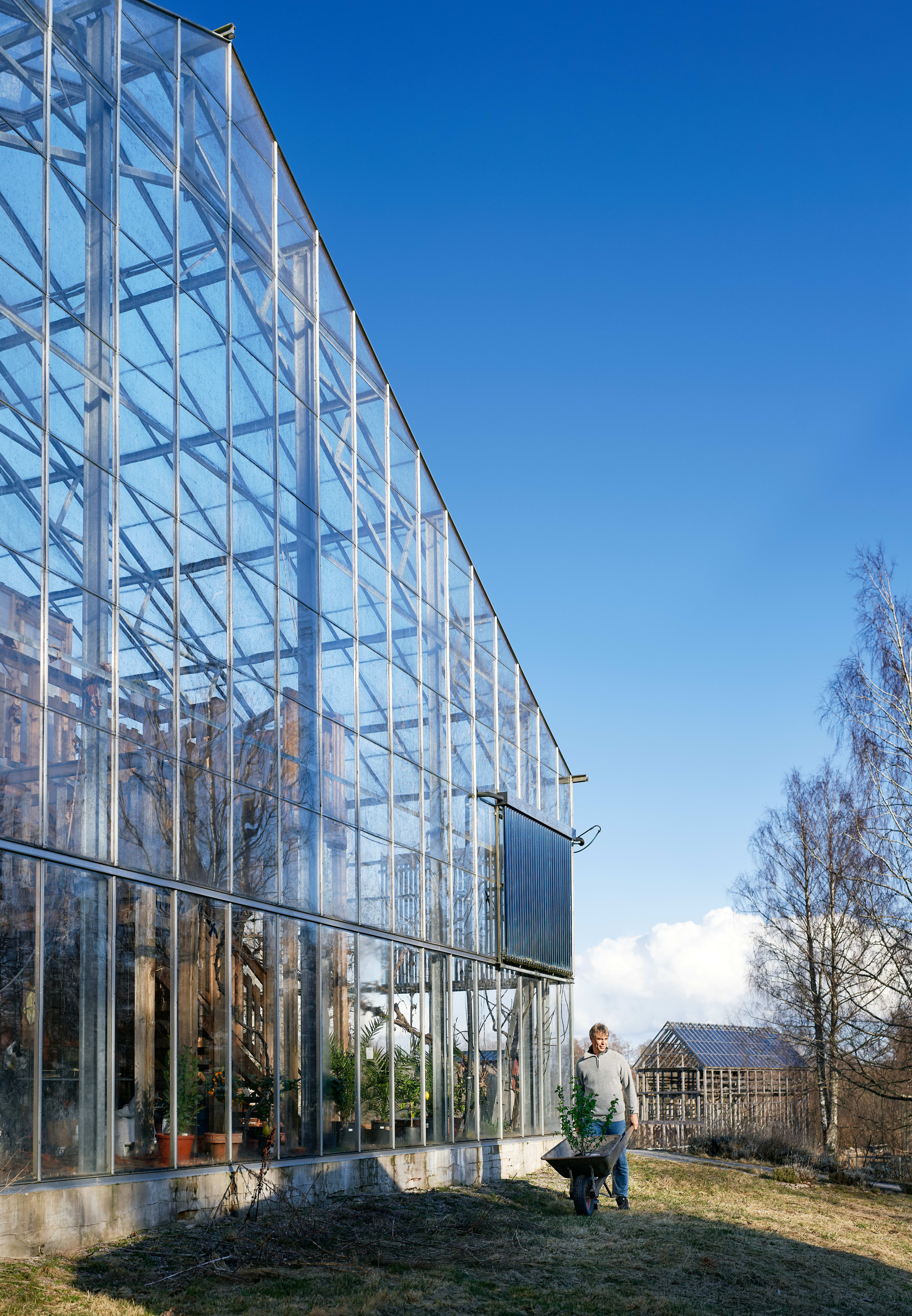 "I couldn't afford to build a house like the one Bengt had built," Anders says. "I was very insecure about the costs, as almost no one had done this before, so we had to simplify it as much as possible yet achieve the same advantages."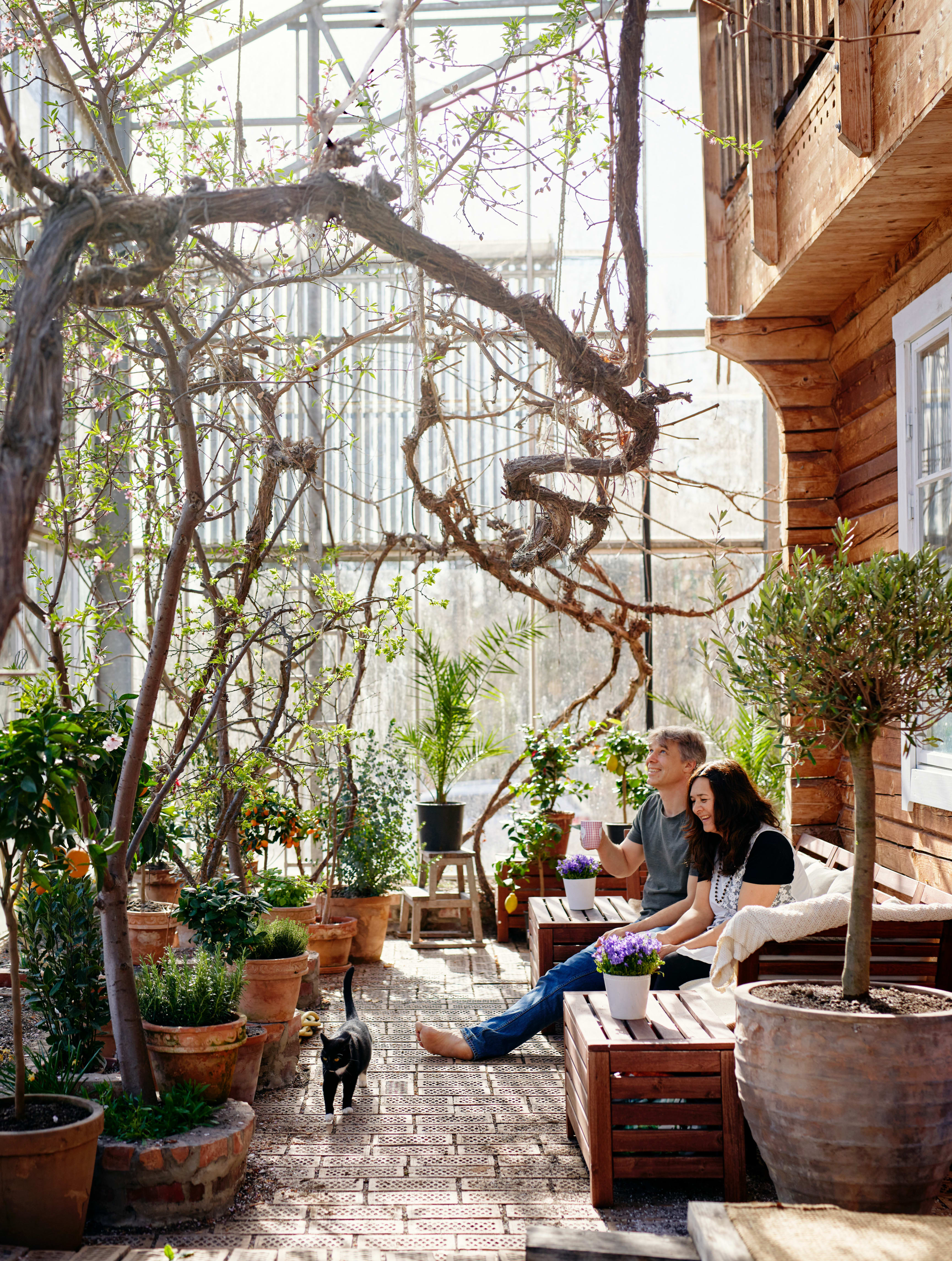 Warne died in 2006, and in the ensuing years Anders has become one of the movement's most prominent voices. Alongside his hospital work, he is part of two companies playing a major role in the future of this way of living: Naturhusvillan is on a mission to make these kinds of homes more accessible and affordable by offering catalog-style architecture, while Greenhouse Living is a consultancy for larger commercial projects, such as the (well-known in Sweden) conference building and cafe.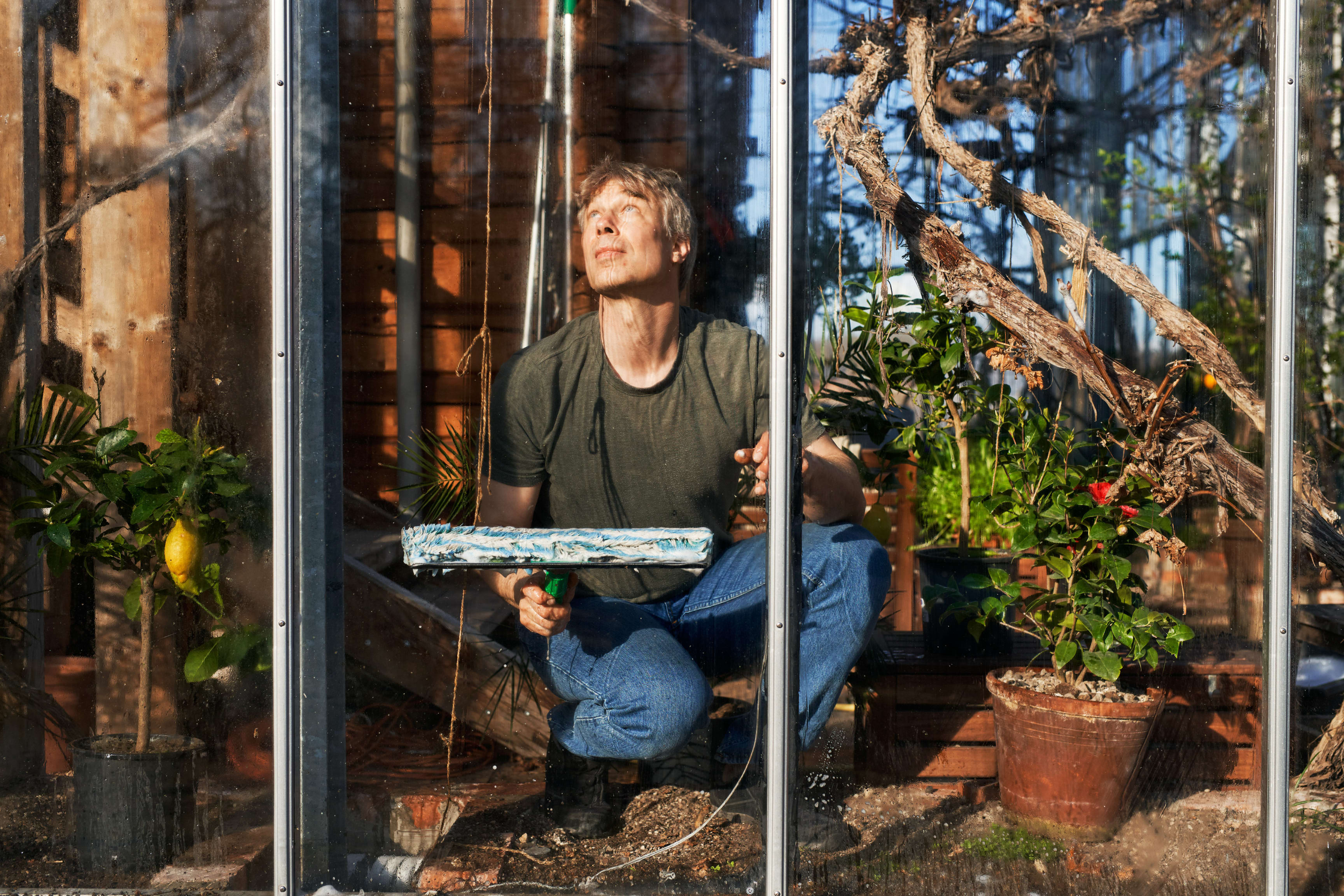 It was, in fact, a program about Anders's home on Swedish television that inspired Roja and Johan to embark on their own naturhus journey. "I couldn't think about any other kind of house," recalls Roja. "So I called Anders and asked him if I could visit to know the feeling of being in the glasshouse. It was a cold November day when we visited, but inside it was like a paradise—20 degrees, sunny, and all the trees were green."
Roja and Johan then spent two years designing their home with architect Fredrik Olson at Tailor Made Architects and ended up building the timber and glass home almost entirely themselves, with the help of friends—as well as Google and YouTube. Their epic undertaking, which is still in progress, was even featured on Grand Designs Sweden last year. As a result, their home has become something of an architectural point of interest. They have received visitors from as far away as Canada who saw the home on television and wanted to replicate it.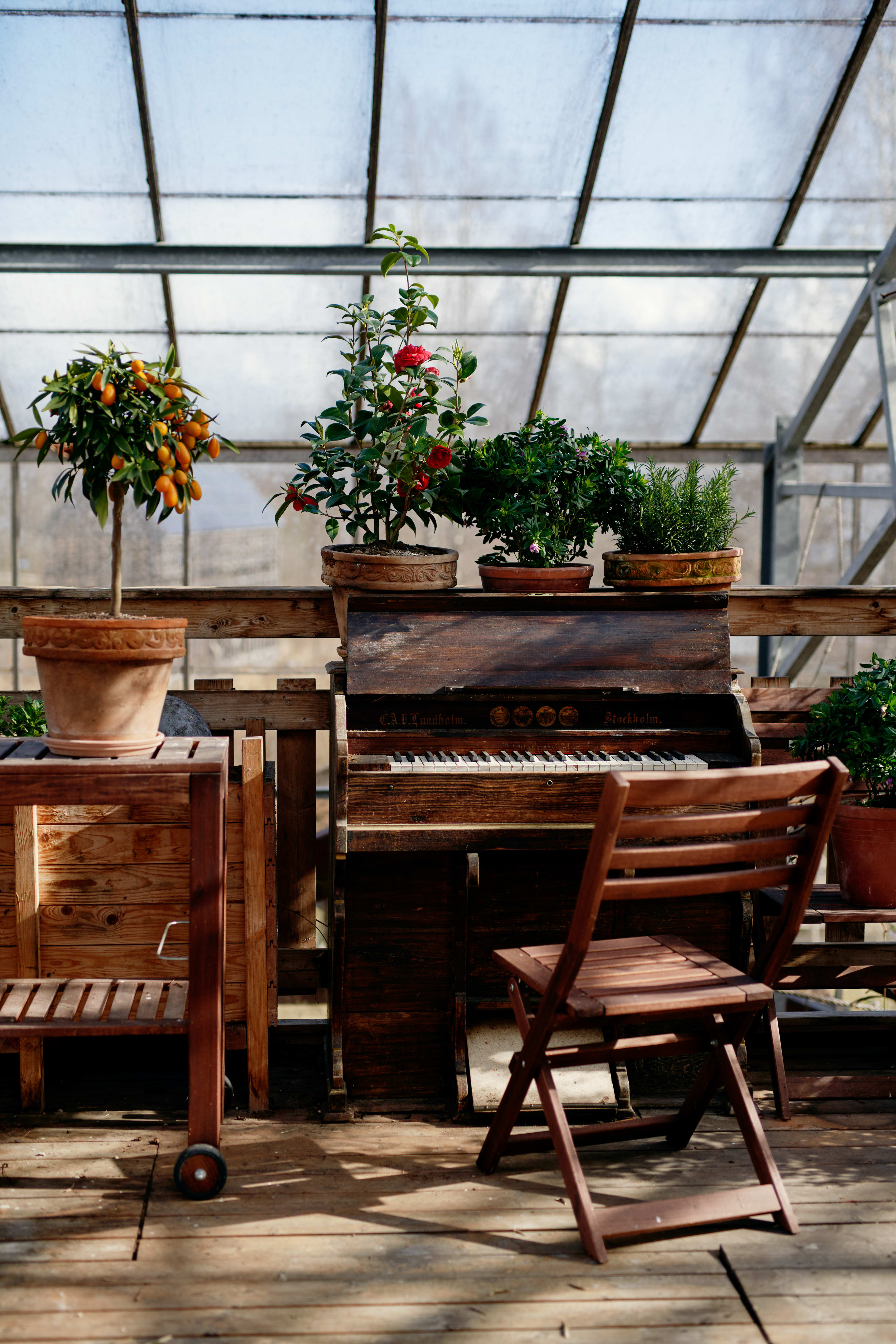 "Many of them dream of building a house like this," says Roja. "They are surprised when they come in here that it is not so warm or muddy." While the idea of a home inside a greenhouse might conjure thoughts of mildew, mud, creepy crawlies, and endless gardening chores, the reality of many owners of greenhouse homes is much more idyllic. Automatic roof panels provide ventilation, fruit blossoms gently scent the air, dirt stays in the garden, and the glass provides protection against common garden pests, heavy wind, and snow.
Thanks to the "eco-cycle system," which was designed by Anders as an evolution of Warne's original concept, the garden even irrigates itself, using household water and wastewater. After being filtered through a series of tanks stored in the basement and two garden beds—where nutrients from sewage nourish the plants—the water is clean enough to be returned to nature, in this case, a pond near the house. The biggest hardship, says Roja, is having to take longer showers in summer so that enough water is pumped through the system.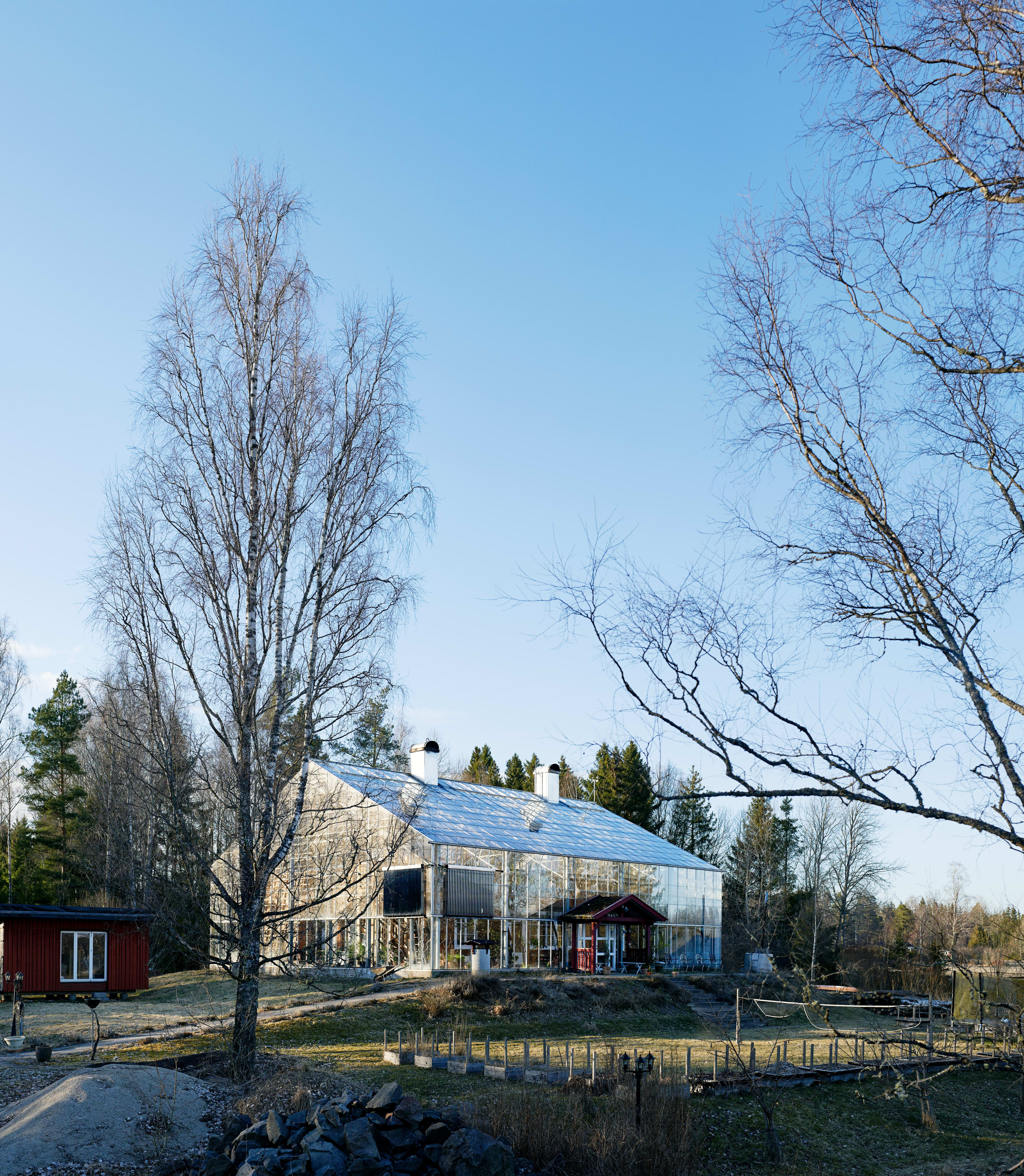 When Roja takes me on a tour of her home, one of the most striking aspects is the different climates that are found around the place. As Anders likes to say, "We have Italy outside the house, we have Greece on the roof, and then in the basement it's like the north of Sweden." This means that whatever the temperature, there's always a pleasant spot to sit—and fast-growing grapevines are a staple of naturhus living, thanks to the ample shade they provide in summer.
These are far from the only greenhouse homes to have appeared on the Swedish landscape since Warne pioneered the concept almost half a century ago. French engineer Charles Sacilotto completed a naturhus in 2004—simply constructing a custom greenhouse around an existing summer home just 30 minutes from Stockholm. He too read Warne's book and met him in 2000, becoming immediately fascinated by the self-sustaining lifestyle that a naturhus affords.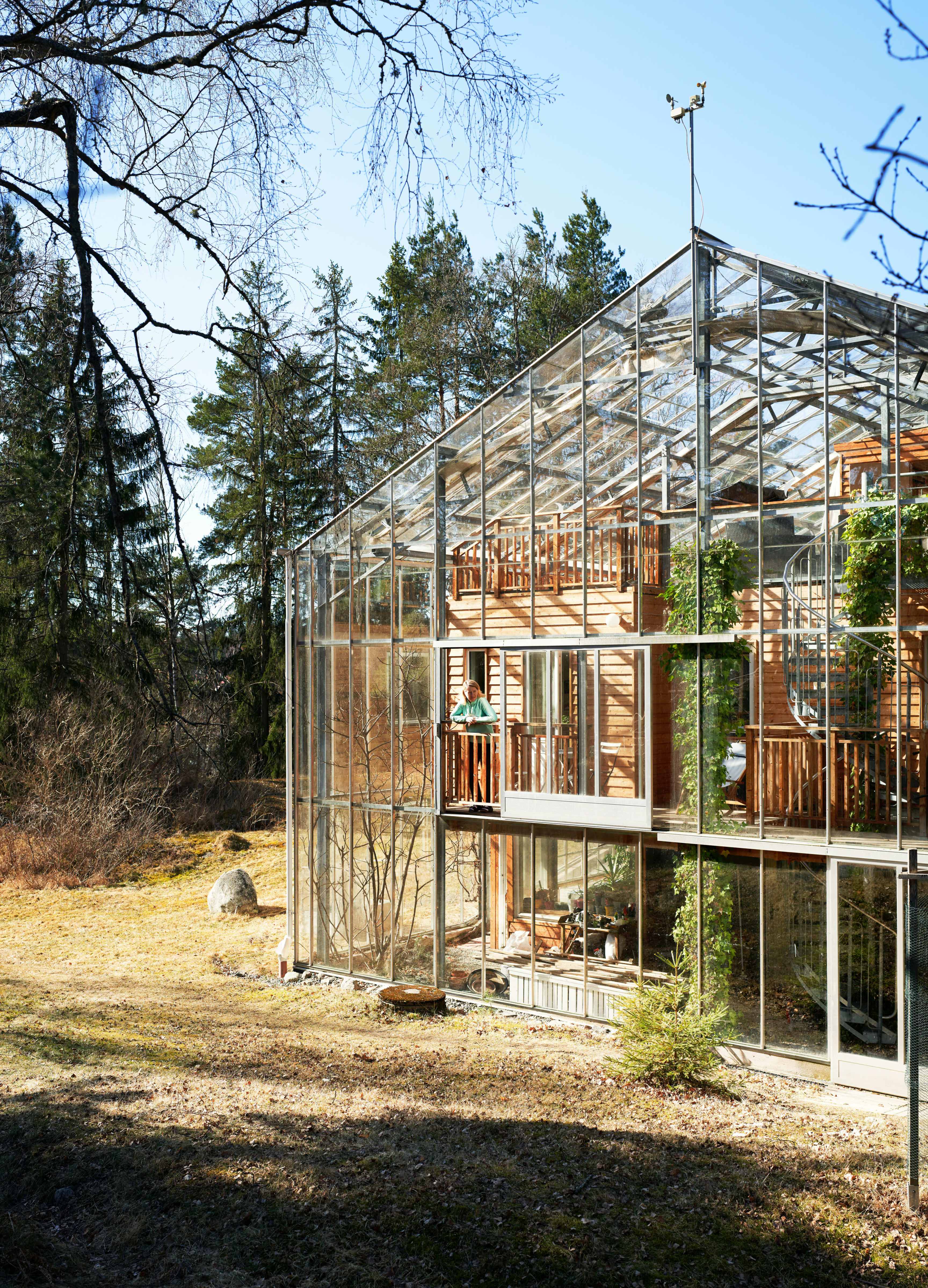 In 2010, Charles's partner, Marie Granmar, moved in. "My first thought was 'Wow,' " she says. "A naturhus is creative and inspiring—and it doesn't have to be expensive. Charles built over an existing house, so the most expensive part was the greenhouse, but that saves on energy and heating, so you get the money back."
Marie became so enamored of greenhouse living that she eventually wrote a book—Naturhus—on the subject, exploring it through eight different greenhouse homes in Sweden. The idea, however, has spread far and wide. Today there are examples in Norway, Denmark, Japan, Belgium, and even Hawaii.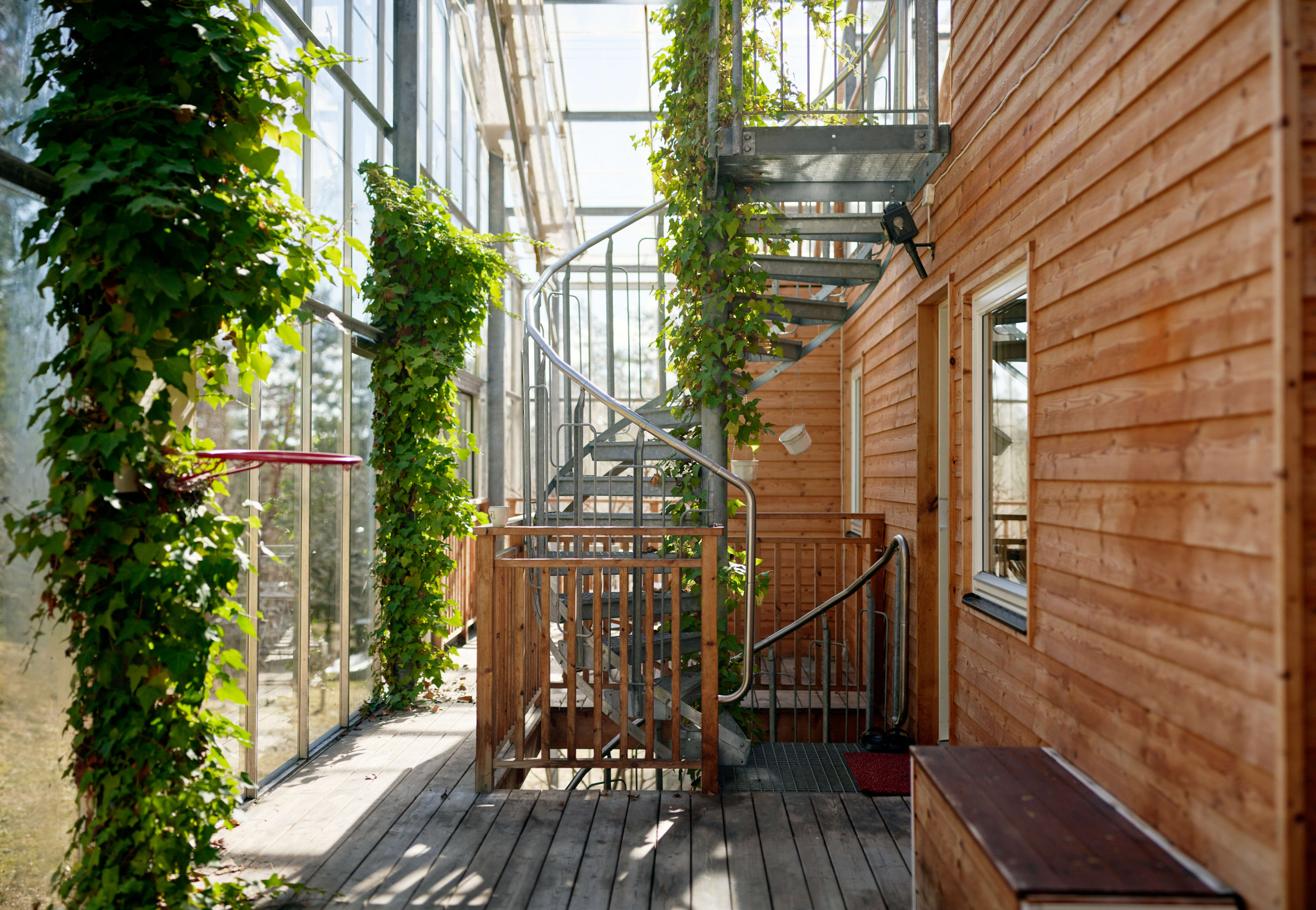 While it might seem counterintuitive to build a home inside a greenhouse in more temperate climates, one of the concept's most important aspects is that it can be adapted to suit different situations. And, according to Anders, you don't always need a greenhouse to create a naturhus; it just so happens that the climate in Sweden necessitates it.
"It's an arrangement so you can live in a garden," he says. "The concept is simply to live as part of an eco-cycle. For me, it was about trying to create a lower footprint with my lifestyle without living in a cave and to enjoy nature."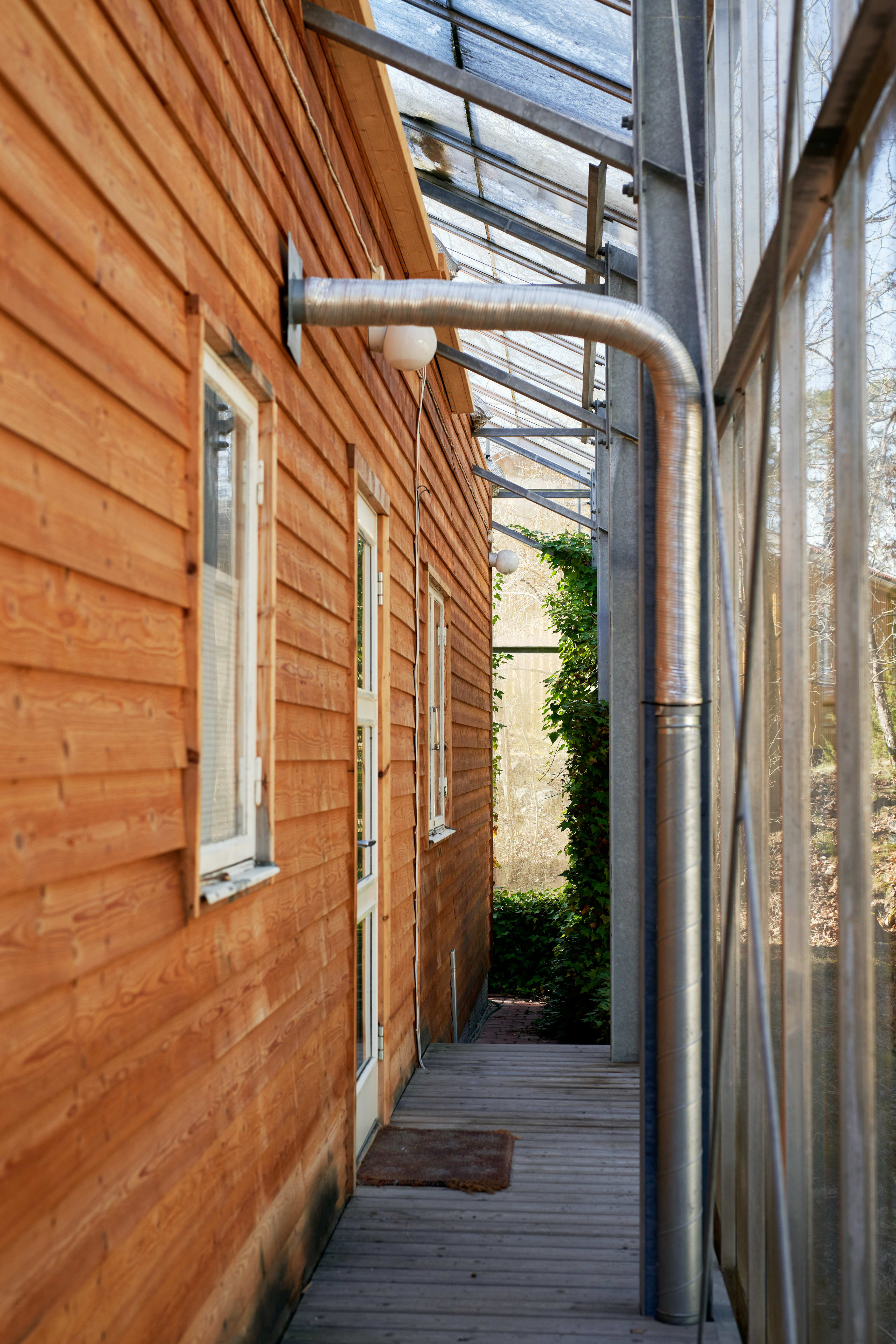 Inside Roja's greenhouse it's impossible to ignore that connection—and for more reasons than the obvious abundance of plant life. As we sit and drink our coffee, the sound of the roof's automated glass panels opening and closing to regulate the temperature makes it feel as if the house itself were alive. "Your house is like your colleague or friend," agrees Anders. "The concept sounds complicated, but it's very simple.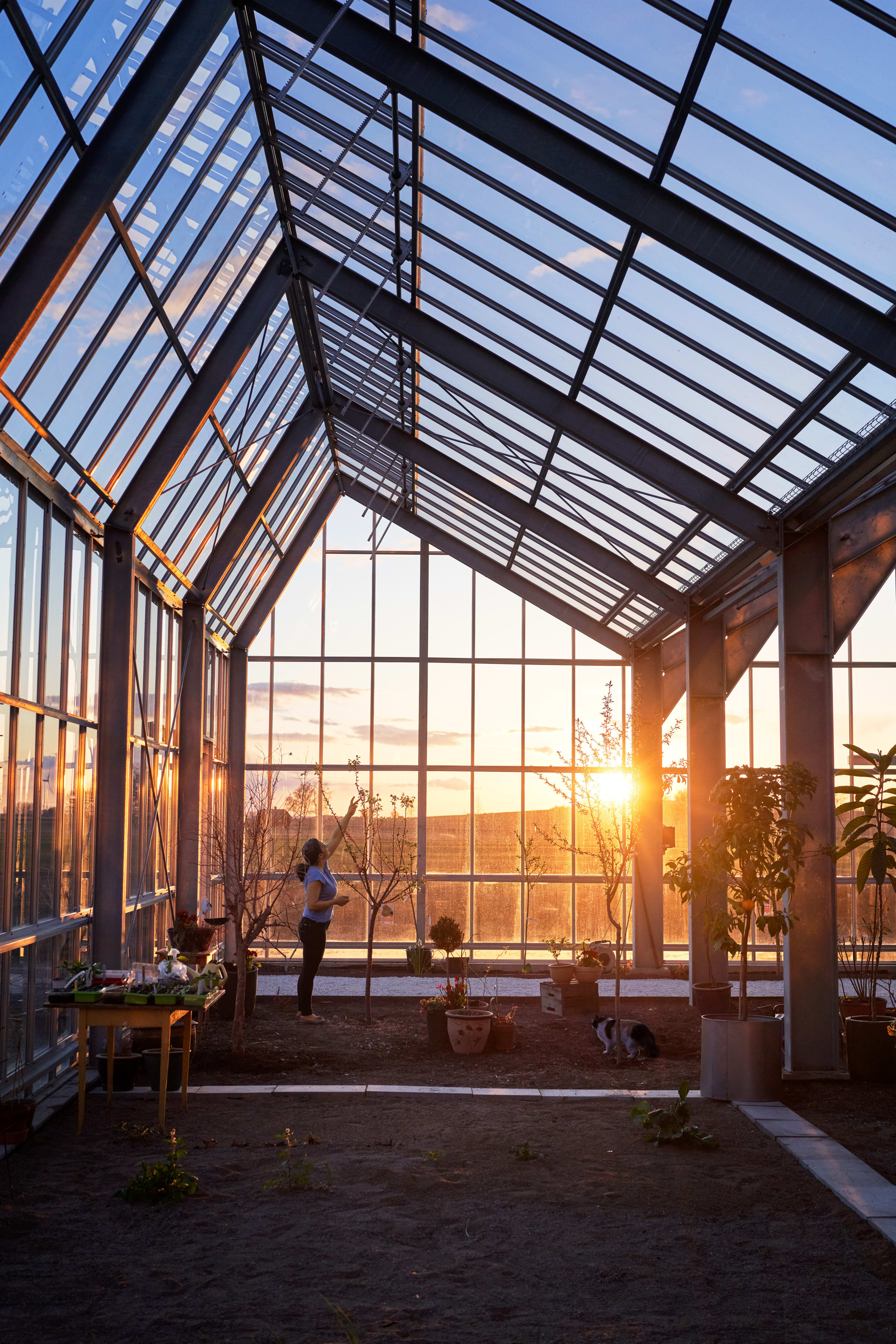 The house provides your shelter and food, and you provide water and nutrients. You interact with natural flows and feel as if you are a part of nature." In a world where so many of the challenges we face come from humans working against the outside world, it's a refreshingly optimistic approach to living.
Project Credits: 
Architect of Record: Tailor Made Arkitekter 
Photographer: Pär Olofsson / @parolofsson