About a year into the COVID-19 pandemic, Dan Martin had a revelation: He and his girlfriend had rarely, if ever, eaten at their dining room table.
Instead, they noshed in bed or on the couch in their single-family home in Corrigan, TX, about two hours north of Houston. Their dining room was a big waste of East Texas space. So they, like many people during the pandemic, switched gears and turned their dining room into a home gym—complete with a climbing wall, dead-lift set, elliptical machine, and treadmill.
"Now, [the room] is used twice a day," says Martin, 44, the author of "Apocalypse: How to Survive a Global Crisis."
The dedicated dining room was a waning concept even before the pandemic, but COVID-19 might have put the nail in the coffin. These days, the space formerly known as the dining room is often being used as a study, an office, a spare family room—just about anything other than what it was intended to be.
These days, homeowners are turning their spaces into anything useful to them, says Anton Giuroiu, an architect and CEO and founder of Homesthetics, a design and aesthetics site.
"As we spend more and more time indoors, we're drawn to creating multifunctional spaces in our homes," Giuroiu says. "I don't think that absence of a formal dining room will affect [a home's] resale value. Especially now, with the open floor plan, a dining room can be turned into literally anything you want it to be."
Dining rooms are transforming into whatever homeowners need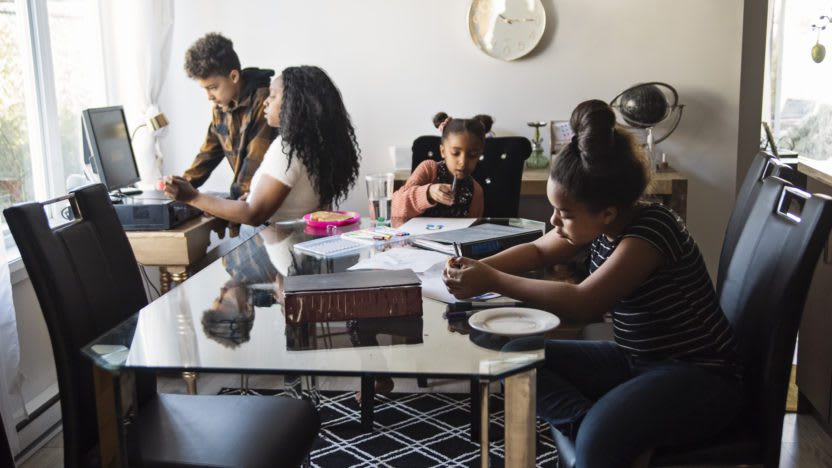 Even before 2020, fewer people were eating dinner together in the dining room, says Volodymyr Barabakh, co-founder and project director of building contractor Structural Beam in Chicago.
With the pandemic, there was a change in space needs and adapting the dining room to serve a new function grew in popularity.
"The shift was accelerated as people realized they needed to bring activities like work and exercise indoors throughout lockdown," Barabakh says.
Then came the rising trend of open-plan kitchens and living rooms, and the separate space often offered by a dining room created the perfect private getaway when working out or working from home, he says.
Even before the pandemic, a 2017 survey by Angi (formerly Angie's List) found that nearly two-thirds of homeowners used their dining room for other activities such as crafts or homework.
Still, 70% of buyers say they'd prefer to have a dining room, according to the National Association of Home Builders. Whether they mind if that dining room looks like an exercise room or a classroom is unclear.
Dining rooms have pivoted as consumers essentially requested more from their homes, explains Deana Vidal, manager of trend consulting for the New Home Trends Institute at John Burns Real Estate Consulting in California.
Entertainment lofts have become study dens, guest rooms are now guest rooms/gyms, and offices are offices/storage areas, Vidal says.
"Consumers need their house to do more to support their lives," Vidal says. "Areas for study, work, working out, crafts—these are where people see more value than that big dinner party a few times a year."
Do today's homebuyers want dining rooms?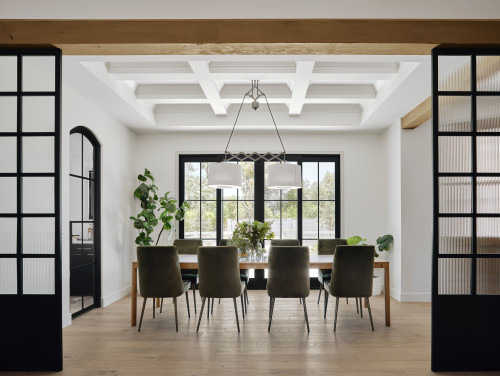 Real estate agents and interior designers aren't surprised to enter homes lacking dining rooms—and many don't expect to see them return anytime soon.
Dedicated dining rooms simply aren't in demand anymore, especially in homes that have space to eat in the kitchen, says Leonard Ang, CEO of iProperty Management, an online resource guide for landlords, tenants, and real estate investors,
Plus, he says, in most cases, the homeowner converting the dining room isn't making permanent changes to the house to accomplish a conversion. So it could always be returned to its original function if there was a need.
Folks are living differently today than they were before the pandemic, so their needs have changed, says Nancy Fire, owner and chief inspirational officer of Design Works International, a New York design studio specializing in original prints and product design programs. That means that the homebuying checklist has also changed.
Some people are craving a space dedicated to dinner parties and social gatherings, while others don't plan on ever returning to the way things were, Fire says. They're happy with their dining rooms becoming yoga spaces or offices.
"It really depends on your lifestyle," she says. "I have friends on both sides of the dining room experience. Some love the extra space while others crave more social interaction with friends and food."
Source: Realtor.com, Danielle Braff