This energizing hue will elevate the most practical room in the home – and designers love its uplifting style.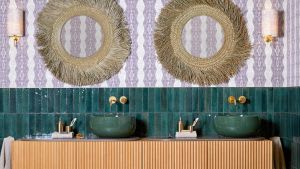 (Image credit: C.P. Hart)
Trend forecasters WGSN have labeled 'Digital Lavender' as their color of the year for 2023, but its calming and versatile hues are set to shape trends beyond the catwalk.
Designers have coupled the resurgence of color in the bathroom with this uplifting shade – prompting a welcome shift from the constraints of white and neutral designs that previously dominated
bathroom color ideas
and
bathroom trends
.
This soothing yet energizing tone works in every room of the home, but none more so than in your bathroom – and the experts agree. Here's what you need to know about the upcoming
color trend(opens in new tab

)
that will change how you use your bathrooms long into the future.
WHY IS LILAC TRENDING IN THE BATHROOM?
'Lilac and purple hues are a huge color trend this year, with the fresh and vibrant tones getting us into the summer mood,' says Yousef Mansuri, the director of design at
C.P. Hart(opens in new tab

)
. Alongside the surge in interest surrounding Digital Lavender, the designer suggests that lilac is trending because of its association with Her Majesty The Queen's Platinum Jubilee, which continues to feed into interior design trends after celebrations conclude.
But what makes the shade so suitable for bathrooms? Designer and Founder of
Interior Kollection(opens in new tab

)
Sanel Konyar suggests that it is its association with 'growth and renewed energy' that is desired in a bathroom.
'Lilac is a refreshing interior color often associated with nature and spring and summer,' Sandel says. 'Embodying the promise of a new season, growth, renewed energy, and looking forward all contribute to its positive interior impact.'
HOW TO STYLE LILAC IN THE BATHROOM
1. PAIR WITH NEUTRAL SHADES
'Within a bathroom space, lilac can be used in tiling, furniture, wallpaper, or simply with added accessories, best paired with whites, grays, or pops of black,' Yousef says.
Sanel agrees that lilac works best with neutral and pastel tones, adding that you should 'avoid bright
primary colors
and move towards waterlily pinks, soft greys, and purple hues.'
'Lilac does cover a range of shades, so picking accessories for your home which embrace a selection of lilac tones within each piece can complement a room and style down the hues to something more comfortable and befitting of a room,' he adds.
2. PLAY WITH LILAC IN DIFFERENT LIGHTS
'As with any interior color choice, light can affect the feel of the room. If you choose a
color combination
for your walls, always paint a section of the wall and, once dry, see how the light in the room works with it,' says Sanel.
If you're unsure that lilac will work alongside the light in your bathroom, you can still experiment with the color by adding accents, such as through tiles or soft furnishings, including bath mats or towels.
While lilac may be trending now, the experts hint that this color is a safe investment for many seasons to come. The only question that remains is how to best make it work in your space.