From California to Argentina, these houses are living, breathing ecosystems for critters of all kinds.
Welcome to Wildlife Week, an exploration of what happens when nature and home meet.
An increasingly prominent consideration when designing homes, sustainability in architecture can mean anything from sourcing local materials to fostering connections with the landscape. Enjoy these homes that embrace flora and fauna, providing ample opportunity for inside and outside to get as close as possible.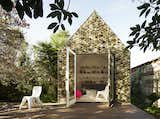 In response to the Bay Area's housing crisis and a recent relaxation in accessory dwelling unit (ADU) rules, Emerging Objects has crafted an experimental housing prototype: the Cabin of Curiosities.
True to its name, the unusual structure is clad in over 4,500 3D-printed ceramic tiles and features a beautiful front facade full of succulents. Partly fabricated from biodegradable materials and clay, the tiny home builds on the studio's history of 3D printing with unconventional items, including recycled tires and salt.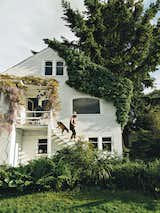 From the outside, an unassuming 1942 cottage overlooking Vancouver's harbor is an unexpected place to find Omer Arbel, a designer known for his experimental, amorphous creations for the Canadian furniture and design company Bocci. But inside the 2,600-square-foot home he shares with his girlfriend, musician Aileen Bryant, and a collection of exotic pets, Arbel's rich imagination and exuberant love of objects are on display.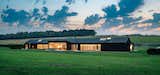 Handcrafted details, energy-efficient principles, and a thoroughly contemporary interior combine at the Friends Lab, a barn-inspired home designed by Madrid-based AMPS Arquitectura & Diseño. The clients are a young family who wanted a house they could share with friends and family on their farm in southern England. To achieve high levels of energy efficiency, the design team constructed the building with prefabricated panels made of cross-laminated timber. These large-scale wood panels not only greatly enhanced the structure's thermal properties, but also considerably reduced the build time.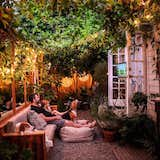 Whitney Leigh Morris, her husband Adam, and their rescue beagle StanLee moved into their 400-square-foot, Craftsman-style cottage in Venice, California, almost nine years ago. "Since then, we've gotten married on our front stoop, adopted our second dog Sophee, and welcomed our child West into the world," says Whitney. "We've always loved our home, but it suits us now more than ever."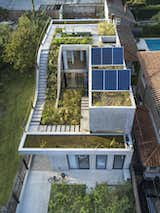 The client, who owned a plot of land in the dense municipality of San Isidro, Argentina, wanted a house that could support their love of gardening while also impacting the site as little as possible. Buenos Aires-based BAM! Arquitectura began with the premise that the house's presence on the lot should not "waste any square meters of soil." The resulting MeMo House, made of reinforced concrete, features garden space on all three levels and connects them all through an undulating "system of green ramps," thus creating a garden terrace that flows from floor to floor.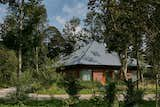 In the town of Noordwijk, located an hour's drive south of Amsterdam, there's a bosvilla—or forest villa—tucked between towering ash and maple trees. The homeowners called upon Kevin Veenhuizen Architects to design a sustainable home that would embrace the landscape and suit their lifestyle long after their three children had grown. The site was initially developed in 1928 as a psychological clinic for women, and the architects drew inspiration from the lush, green surroundings while collaborating closely with the couple to achieve a simple and humble home reflective of their personality. The dwelling's square footprint is divided into four precisely arranged quadrants, and the four corners feature glass walls that open the structure to its natural environs.
In thinking about the worldwide lack of reliable water, sanitation, food, and electricity—and the fact that housing sector contributes more than a third of global greenhouse gas emissions—the Yale Center for Ecosystems in Architecture and the New Haven, Connecticut–based architecture firm Gray Organschi Architecture designed and constructed a 230-square-foot home called the Ecological Living Module (ELM). The construction is a fully off-grid housing prototype that was designed to take advantage of sustainable materials, green technology, and simple construction methods. There's a a rainwater harvesting system, a solar system that provides 100 percent of the building's energy needs, and a graywater system that irrigates food-producing plants that mark the building's west facade.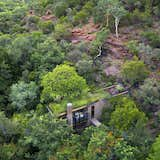 Hidden amidst the dense trees of a private reserve in Waterberg, South Africa, is a long, narrow building that appears to grow from a steep cliff out into the treetops. Crafted from local brick that evokes the sandstone rock face and capped with a green roof, the House of the Tall Chimneys is a guesthouse by Johannesburg-based architecture studio Frankie Pappas that celebrates a visceral connection with nature. "This space is shadier than the surrounding forest, so it creates a different microclimate for different species to flourish in that area," says architect Ant Vervoort. "It's an area that we have cultivated."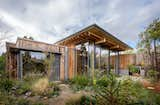 "The client wanted to feel like she was living in the wilderness when, in fact, her home is on a regular-size urban neighborhood lot," notes Jim Olson, co-founder of the award-winning architecture studio Olson Kundig. Undeterred by the challenge, Jim strategically set the 2,400-square-foot home—dubbed the City Cabin—on the Seattle lot's northwest corner to maximize garden space on the south and east sides. Walls of glazing frame views of the gardens that were densely landscaped with mature trees to fulfill the client's desire for a connection to "urban wilderness."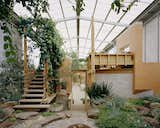 Ronnen Goren and Trace Streeter bought 20 acres in central Victoria, just six minutes north of the spa town of Daylesford, with the aim of creating a rural enclave where they could farm, garden, and host visitors via a cooking school and reception venue. "One is an ex-farmer and part-time hairdresser, and the other is a design executive and brilliant cook," says architect Timothy Hill, design director at Partners Hill—and Goren's friend of 30 years. "The goal was to invent a project and a way of living that would enable their instinctual interests and capacities to flourish in a generous way."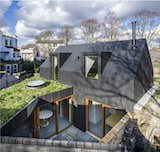 With few desirable housing lots left on the market in central London, architect Jonathan Pile decided to take his chances on an irregular walled site that developers had written off as unviable. Tucked behind a row of buildings that front Deptford High Street, the awkwardly shaped lot had been used as a car repair yard for decades, and it still retained the remains of a small two-horse stable from the late 19th century. Impressively, the house they designed meets level four of the UK Code for Sustainable Homes and exceeds UK Building Regulations for energy performance and carbon dioxide emissions by approximately 20 percent. The airtight build is constructed with naturally finished, low-embodied-energy materials, and it features efficient water systems (including solar hot water heaters), a living roof rich with native wildflowers, and an integrated bat box and sparrow terrace.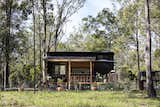 When a family in Queensland, Australia, suffered the loss of a loved one, a tiny home became their ticket to financial freedom. The home is located on a six-acre property that features a creek; native gum, eucalyptus, and bottlebrush trees; and birds, kangaroos, wallabies, koalas, and lizards. "It's mesmerizing to sit outside, smell the gum trees and listen to the birds," Amy says. "The air is fresh, and you can feel the wind on your skin—it's easy to stop and just be when we're at home."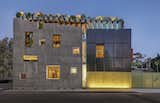 "We need an architecture that generates and stores power, an architecture that harvests and recycles water, an architecture that reuses waste," says Clinton Cole, the founder of CplusC, a design-build firm based in Sydney. "We need an architecture that produces fruits, vegetables, fish, and eggs. We need an architecture where nature and beauty exist symbiotically." Clinton's passion seems more urgent than ever against the backdrop of one of the worst bushfire seasons on record in Australia. Fittingly, he has designed a new home for himself, his partner, and their three children to be an eye-catching emblem for the cause. The three-level, 1,722-square-foot residence fills a wedge-shaped lot in an inner suburb of Sydney. With greenery spilling out of its facade and a working garden sprouting from the roof, it is a self-consciously verdant presence on an otherwise typical street.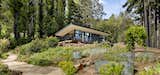 In October of 2017, Northern California suffered a cluster of wildfires that burned for nearly the entire month, causing 44 deaths and destroying 8,900 buildings. Michele and Fred Smith's longtime home on the slopes of Mount Veeder in Napa County was one of them.
The Smiths were able to safely evacuate, but they lost everything. In the aftermath, the couple, who are retired, had to move five times as they tried to reestablish their lives and decide whether to rebuild. A strong connection to nature was the couple's topmost priority for the design brief—and they also wanted the project to be small. "Just a modern little cabin," says Boyer—with lots of outdoor space.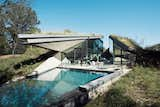 Edgeland House, built on a cliff-top lot in Austin by architect Thomas Bercy for lawyer and writer Chris Brown, is topped by a living roof to help it blend into the landscape. The concrete, steel, and glass house is divided into two distinct public and private halves. Tucked beneath a grassy roof covered by nearly 200 species of plants and grasses, the structure is virtually invisible from the nearby street. In fact, the 1,400-square-foot house is so well hidden in the earth that it doesn't seem to register on the radar of local wildlife either.
Birds, butterflies, bees, dragonflies, hawks, snakes, lizards, and frogs all treat the house like just another grassy knoll.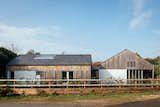 PAD Studio designed a serene three-bedroom home for a London-based family in the New Forest National Park, United Kingdom. The retreat embodies the studio's commitment to environmentally-focused architecture, with triple-glazed windows, abundant insulation, natural ventilation, an air source heat pump for off-grid heating, photovoltaic panels, and a timber-frame structure with blown paper insulation in the roof.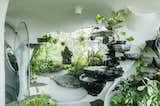 Nitin Barchha and Disney Davis of the architecture firm The White Room are known for designing organic, curvaceous homes and private gardens. They were approached by a couple seeking to renovate their one-bedroom apartment in the charming suburb of Pali Hill, just outside the bustling city of Mumbai. Barchha and Davis's resulting design is marked by organic, sculptural forms that mimic the curves and undulating shapes found in nature. Door and window openings are curved and asymmetrical; continuous curves form light fixtures, furniture, and even shelving.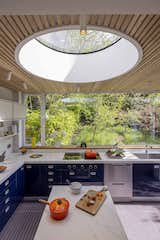 Nestled into a protected woodland in South London, architect Helena Rivera's family home has impressive design credentials. Part of the famed Dulwich Estate—a midcentury conservation area built by Austin Vernon & Partners—it's full of modernist charm and has an enviable location that's central to the city yet surrounded by mature woodland. However, the family wanted to add a fourth bedroom to the house and sought to relocate the kitchen, where they spent 80 percent of their family time. It was paramount for the extension to have a light ecological impact that would avoid disturbing the abundant wildlife in the garden—including foxes, squirrels, birds, and bats. So Helena designed the structure as a simple rectangular form that subtly extends from the existing home into the forested surrounds.
A green roof integrates the addition within the landscape and helps to balance the thermal performance of the home, keeping the kitchen cool in the summer and warm in the winter. A large oculus punctuates the roof, bringing daylight into the space.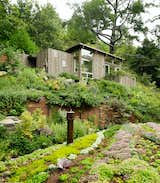 With planted roofs and vertical timber siding, the Mill Valley Cabins have been crafted to look and feel like a natural extension of the surrounding forest canopy. Designed by Feldman Architecture the two structures—one serving as an artist studio and the other as a place to practice yoga—sit lightly on the land and take cues from the existing topography. The 500-square-foot artist studio is located higher on the slope, and overlooks the green roof of the 415-square-foot yoga studio below.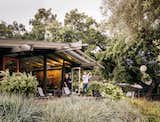 High on an oak-studded, 1.4-acre parcel sits a house that architect Calvin Straub, a Japanese-influenced modernist, built in 1954. Over the next half-century, the original owner left the architecture virtually untouched. The building became run-down, and its interiors dark and tired. But the Blodgett-Calvin family could see past the heavy carpeting and drapes. In 2010, they approached Alice Fung and Michael Blatt of Fung + Blatt Architects (later joined by Elysian Landscapes), and the project gradually evolved into a mini-compound, with six pavilions tucked into the land's contours. The architects' strategy—integrating the requested pavilions—preserved the terrain, while referring back to Straub's design. Along the slope, the structures, Fung explains, progressively "blur the lines between building and landscape." With their minimal footprints, some burrow into the earth, while others echo the ground plane with planted roofs, up-tilted like tectonic plates.