Making the decision to purchase a home is a big deal, and there's no doubt you've already put loads of research into the process. One aspect to consider is the type of architectural house style you envision yourself living in. From the clean lines and open floor plans of a contemporary home to the soft, rustic curves of adobe to the ornate grandeur of gothic architecture, each style offers its own set of characteristics. To help you narrow down your choices, we're offering a quick rundown of some of the most common house styles on the market.
As its name implies, mid-century modern architecture rose in popularity in the 1940s through '60s, and can be traced back to the Bauhaus school in Germany.
"Mid-century modern [houses] are notable for integrating interior and exterior experiences with wide expanses of glass, walk out terraces, and minimal geometric forms," explains architect Michele Rudolph, founder of Riverside Design. "They were seen as a new style of living for an era that embraced new technologies and modern conveniences."
She adds that these homes typically feature open floor plans, high and often sloping ceilings, large sliding glass doors, precise yet inventive details, and open-air patio spaces.
Many people may not realize that most aspects of mid-century modern design are actually directly influenced by Scandinavian architecture. Both house styles are known for their simple lines, organic forms, minimalism, and embracement of nature.
Perhaps the biggest distinguisher between the two is that Scandinavian design is more heavily focused on connecting the outdoor world to the indoor. It does so by incorporating natural materials, such as wood and stone (often pale in hue or whitewashed), and large windows to let in ample natural light and to create the feeling of being one with the outdoors.
Interestingly, contemporary homes also aren't too far away from mid-century modern design. In fact, most contemporary homes are actually rooted in modernism and feature clean lines, open layouts, and minimalist touches.
"The style is distinguished by a muted color scheme, uncluttered rooms, and frequently huge windows that let in a lot of natural light," luxury architectural designer Tim Roberts, CEO of Material, says. "It's always changing and speaks to 21st century architecture. Natural materials—like stone, wood, and concrete—are frequently used, and geometric shapes and subdued color tones are usually the main visual traits."
Spanish revival
Also referred to as Spanish Colonial Revival, this architectural style is directly rooted in the Spanish colonization of the Americas. "This style most commonly features light colored stucco with deep recessed fenestration and terracotta accents," Jeff Hansen, architect at Forge & Bow based in Fort Collins, Colorado, says.
Other common characteristics include beautiful arched doorways and windows, low-profile roofs with red-toned tiles, and intricate wrought iron details seen on balconies and windows. Inside, you'll often find exquisite tiling on the floors and sometimes even walls, exposed wood beams, and handcrafted woodwork.
Another notable perk of Spanish revival homes is the inclusion of well-designed patios either on the perimeter of the house or sometimes even centrally located within the house.
Ranch
"Ranch style homes are a uniquely American vernacular with colonial era origins in the southwest," Rudolph notes. "Spanish colonizers used regional materials such as adobe bricks to build simple, economical one story buildings. These early building's simple geometry made adding additional rectangular rooms relatively easy as settlers' needs grew."
Along with a low, single-story profile, ranch homes typically feature a spacious living area that serves as a central communal point of the home, a series of bedrooms spread out across the floor plan, and gentle roof lines.
Bungalow
While ranch homes are defined by their sprawling floor plans, bungalows take the opposite approach with their compact design. "Bungalows are characterized by small spaces with nice architectural details and lots of charm," notes interior designer Maggie Griffin. "Many homes in the 1900s can be put into this category, with large neighborhoods popping up for the working class."
She adds, "Many have wide board siding or shingles on the exterior, dormer windows, and deep front porches." She adds that the ceilings and rooms can be small, so if you love this style but need more wiggle room, consider seeking one with open spaces.
Tudor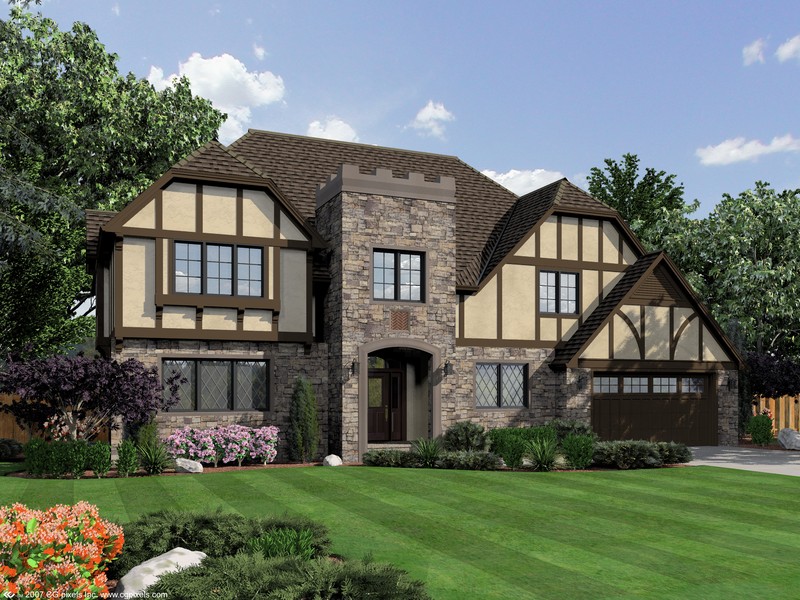 Tudor homes originated in England and were considered a nice change of pace from the casual bungalow style homes that popped up all over America in the late 1900s. This design is best known for its timber framework, pitched roofs and facades, and unique combination of various building materials.
"With exteriors made of brick, limestone or stacked stone, the Tudor style can also incorporate stained glass windows and slate roofs," Griffin says. "Many true Tudor homes can be dark on the inside with deeply stained wood." Many also feature beautiful chimneys and exposed beams for a cozy atmosphere.
Victorian
Victorian style homes originated in the late 19th century British era, and are known for their scintillating ornate details and colorful exteriors. They're also typically quite tall, featuring at least two stories but sometimes three or four.
"They made the most of the land where they were built with their rambling floor plans, stylish decorative exterior details, high windows and porches," explains Rudolph. "Victorian homes freely borrowed ornamental designs from many architectural styles. One can see Victorian homes with Italian style cupolas, gingerbread, and patterned shingles."
Craftsman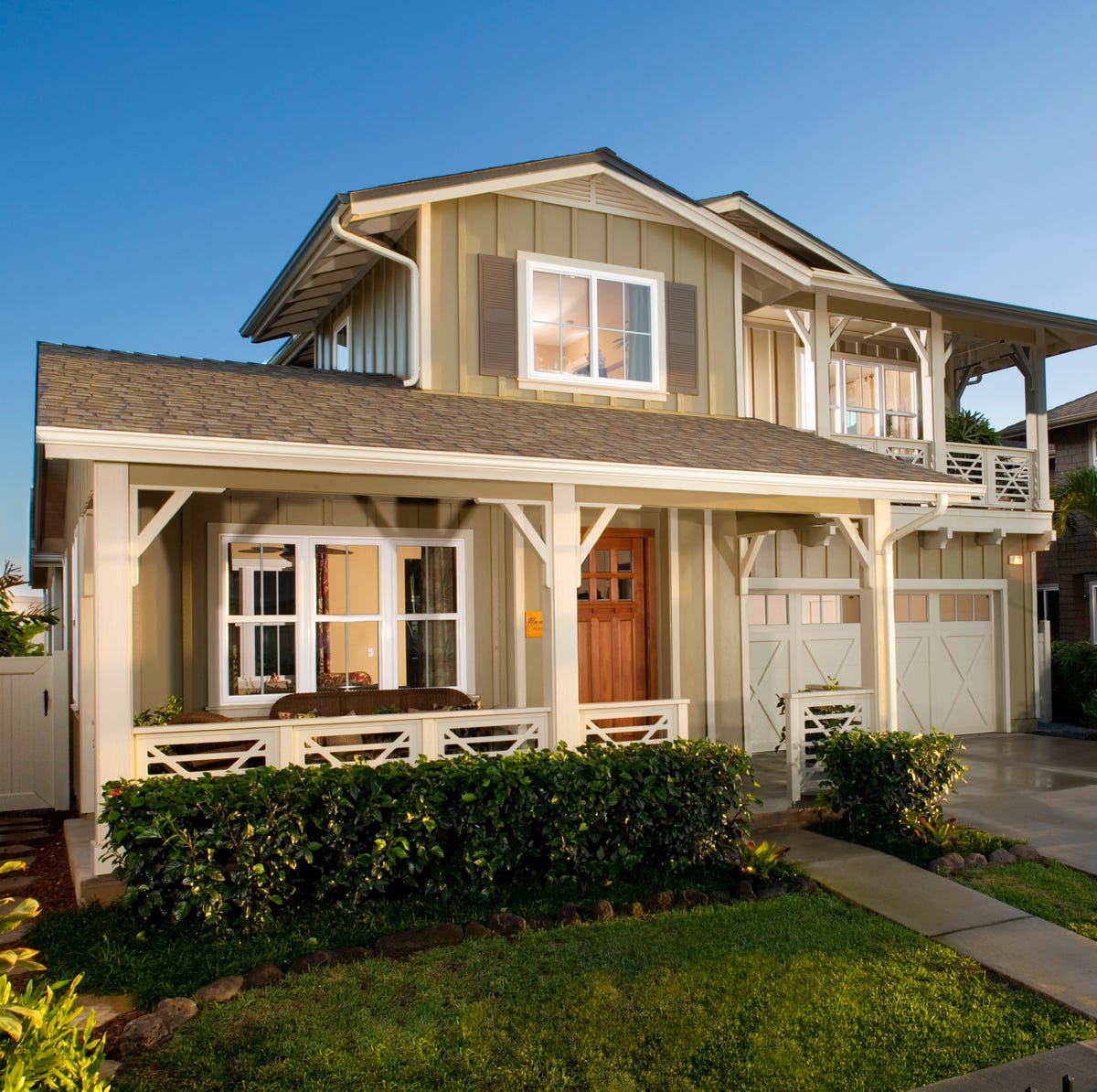 Craftsman style homes are arguably a response to the highly detailed Victorian homes that rose to fame in the late 1800s. In the early 1900s, the pendulum swung the opposite direction to make way for humbled, simplified design. "Craftsman homes can lean rustic and utilize lots of warm wood tones, heavy mill work, pitched porch roofs, and deep front porches," Griffin says.
True to its name, this architecture focuses on handcrafted details and natural materials. The interiors often feature more open floor plans, wood galore, and a strong emphasis on function over fashion.
Beach House
The defining characteristic of a beach house is obviously its proximity to the sea, but there's much more that goes into this house style. In a nutshell, it's defined by its casual and clean design, neutral color palette, airy feel, and coastal views.
"Originating in the early 20th century, beach homes are typically bright and inviting," says Roberts. "Most beach house homes have a white-washed clapboard exterior, big windows, and broad verandas that offer shade and protection from the heat and sea salt."
He adds that this house style also often includes an inviting wraparound porch, shuttered windows, and a pitched roof. To bring these homes to life, we often see them decorated with details such as weathervanes, fish-shaped ornaments, and nautical accessories.
Adobe
While beach homes fit seamlessly along the coastline, adobe homes are made to blend in with their desert surroundings. As such, you'll typically only find these homes in the arid Southwest, including Arizona, New Mexico, southern Utah, and parts of California. The word adobe refers to the exterior material, which is made from clay, sand, straw, and water, and then coated with stucco or mud.
"Adobe-style architecture tends to blend well with the surrounding environment and landscape, giving it an organic and natural feel," says Faraz Tajik, custom home builder and CEO of Crest Builders. "Rounded corners and arched doorways are common design choices, while small openings such as windows ensure that the building has enough ventilation without losing its insulating properties."
Gothic
When you think of gothic architecture, old churches that dot Europe often come to mind. This style originated in medieval times—around the 12th century—and enjoyed a nice revival in the 18th and 19th centuries. When transposed into a home setting, many of those architectural details—such as pointed arches, extravagant ornamentation, pitched roofs, and complex stonework—carry over.
"The main visual features of gothic dwellings are often elaborate and decorative carvings in stone, brick, or wood, as well as a range of window sizes and forms," notes Roberts. "Odd enough, gothic houses frequently have several entrances and exits, turrets, spires, and/or finials."
Mediterranean
Naturally, Mediterranean architectural style originated in countries nestled along the Mediterranean Sea, including Spain, Italy, Greece, and Morocco. Today, you'll find this style across the world, from coastal areas to hilly terrains, often far away from its original birthplace.
"The secret behind its widespread popularity in diverse climates and landscapes is the adaptability of its design," Tajik says. "Stone, stucco, precast, and terracotta tiles are the most popular building material used to create elegant arches and columns which are the most prominent features of this architectural style." Additionally, Mediterranean style homes often feature breezy spaces that seamlessly transition the indoors to the outside.